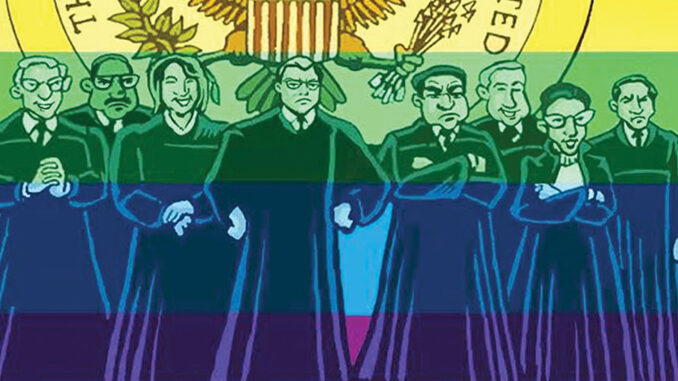 compiled by Jeff Burman
Late June saw a flurry of intense activity in Washington, DC. The Supreme Court broadened the protections of housing discrimination law, approved federal subsidies for the Affordable Care Act (aka ObamaCare) and, in a historic ruling, recognized the right of same-sex couples to marry under the Equal Protection clause of the 14th Amendment. In a setback for organized labor, however, the massive trade agreement known as the Trans-Pacific Partnership lurched forward, as a so-called Fast Track approval process — at first soundly defeated by the House of Representatives — was then revisited and passed.
The high Court delivered a major win for housing protection, ruling that discrimination does not have to be intentional in order to be illegal.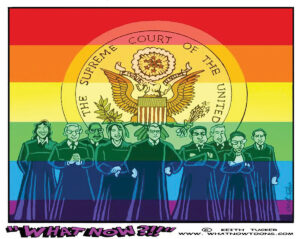 ObamaCare survived "objectively ludicrous but nonetheless menacing attempts at legal sabotage," writes Paul Krugman in The New York Times. ObamaCare is not only well established, but doing better than many had thought it would, adds Krugman. While 1.8 million people who bought their insurance on federal exchanges live in counties that voted for President Obama, 4.5 million live in counties that voted for Romney, writes Leo Gerrard in In These Times.
In a historic decision on gay rights, the Court swept aside restrictions on same-sex marriage. Praising the decision, President Obama called it "justice that arrives like a thunderbolt." Legal scholar Erwin Chemerinsky wrote that the rights of minorities should not "be left to the political process for protection." IATSE president Matt Loeb said the decision is "a victory for civil rights, and therefore human rights and worker rights. It is a truly historic moment."
The Trans-Pacific Trade Partnership can now only be approved or denied by Congress. "Fast Track" was advanced by a single vote: 60-38 in the US Senate. California Senator Dianne Feinstein (D-CA) cast her vote in favor of the trade bill.
LA Boosts Minimum Wage
The Los Angeles City Council raised the city's minimum wage to $15 an hour in June, effective in 2020 and indexed to inflation. The ordinance boosts the current $9 an hour base wage for as many as 800,000 workers and makes LA the largest American city to adopt such a bold minimum wage increase, write Peter Jamison, David Zahniser and Alice Walton in The Los Angeles Times. Chicago, San Francisco and Seattle have already approved similar laws.
"Make no mistake," said Councilman Paul Krekorian, who played a prominent role in shaping the wage increase, "today the city of Los Angeles, the second-biggest city in the nation, is leading the nation." The first wage boost to $10.50 an hour would take effect in July 2016.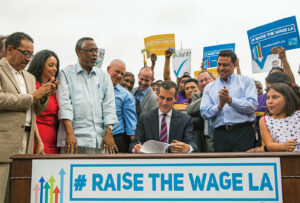 The Los Angeles County Federation of Labor, an umbrella group of local unions, stirred a controversy by asking that some union workers be exempted from the higher wage requirement, saying, "Such a provision would give business owners flexibility to offer more generous health insurance packages." The County Fed also wanted to be sure there was no conflict between federal labor laws and local wage ordinances, writes Jennifer Medina in The New York Times. For example, the exemption would allow nonprofit groups that hire former gang members to pay less than $15 an hour.
Rusty Hicks, head of the County Fed, said that he had always assumed that a provision exempting unions would be included in any local wage ordinance, as it has been in such cities as Oakland, San Francisco and Chicago, adds Medina. A similar provision was also part of the $15.57 minimum wage for workers at large hotels that the city approved in 2014.
The Council decided to ask for a report from city officials on exemptions, leaving it out of the ordinance, writes Emily Alpert Reyes in the Los Angeles Times.
'Right to Work' Hurts All Workers
"Anti-union state and local policymakers in communities across the country are attacking an already weakened labor movement by enacting so-called "right to work" laws that inhibit workers from bargaining for better wages and benefits," write Karla Walter and Jackie Odum in Newsweek.
"'Right to work' laws make it illegal for workers and employers to negotiate a contract that requires everyone who benefits from a union contract to pay his or her fair share of the costs of administering it.
"Numerous studies show that 'right to work' laws are harmful to workers and local economies.
"Proponents argue that these laws create jobs and grow the economy based on the incorrect assumption that high union density hurts the economy. But research has discredited these arguments and shown that these laws disadvantage all workers, regardless of union status.
"American labor law is supposed to ensure that workers can join together in unions, but state and local governments are increasingly enacting policies that function to degrade these rights.
"'Right to work' laws reduce wages, undermine unions and weaken bargaining power at a time when wage increases could bolster our middle class and strengthen local economies.
"This harms all middle-class Americans and the economy as a whole. If policymakers are serious about raising wages and revitalizing their economies, they need to pursue policies that empower workers and increase unionization rates."
Murder Charged in Bangladesh Tragedy
Police in Bangladesh in June filed the first formal murder charges against the owner of a building that collapsed in 2013, killing 1,130 people in the country's worst industrial disaster, according to Reuters.
The collapse of Rana Plaza, built outside the capital, Dhaka, ranks amongst the world's worst industrial accidents, and prompted an outcry for greater safety in the world's second-largest exporter of readymade clothing.
In all, 42 people were charged as a result of the disaster, a rare step in a country where critics complain that powerful garment industry owners often go unpunished for factory accidents.
If convicted, owner Sohel Rana could be sentenced to death.
Russian Prison Labor for World Cup?
Russian authorities want to use prison labor to drive down the costs of holding the 2018 World Cup, according to the Associated Press. The Russian prison service is backing a bid by lawmaker Alexander Khinshtein to allow prisoners to be taken from their camps to work at factories, with a focus on driving down the costs of building World Cup venues.
Workers' rights are a delicate issue for World Cup organizer FIFA, which is under pressure over the high rate of deaths among the 600,000 migrant workers in 2022 host nation Qatar. There, many are forced to live in squalor and are paid poverty wages or even "slavery wages" in the richest country in the world, according to Sharan Burrow writing for the AFL-CIO's blog Now.
So far, there are no plans to employ Russian prisoners on World Cup stadium construction sites, Khinshtein added.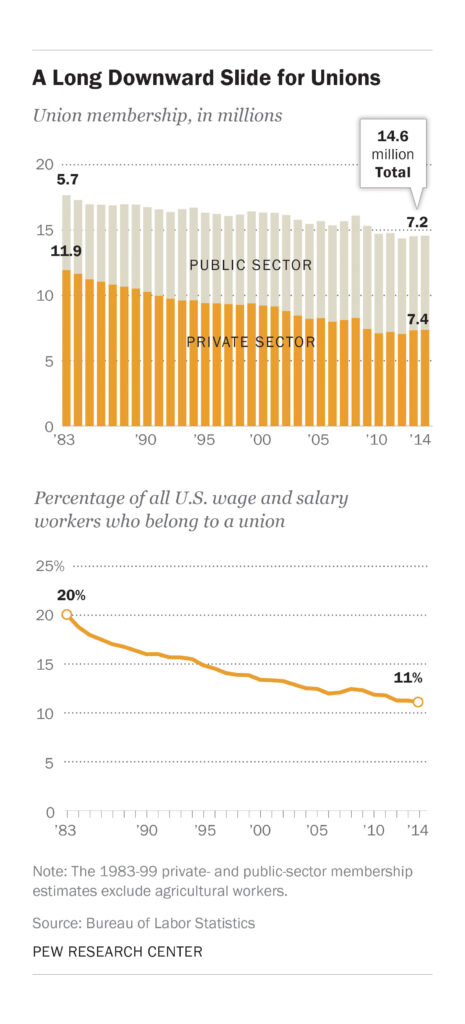 2016 GOP Race May Take on Unions
Wisconsin Governor Scott Walker has distinguished himself as an outspoken anti-union candidate for the 2016 Republican presidential nomination, largely because he took on public employee unions and signed a "right to work" bill into law in what was once a union-friendly state. In Iowa, Walker led in five recent polls, including the respected Des Moines Register poll.
Yet the very labor movement Walker loves to bash is probably the only thing that can save what's left of our middle class, writes Thomas Geoghegan for Reuters. "The aim of many leading Republicans now seems to be to defund labor: to starve it of money so it is too weak to bargain in the public or private sector… Still, it is shocking that Michigan, the home state of the United Auto Workers — the union that established the high wages that lifted the boats of everyone in America — is now a 'right to work' state like Mississippi. How did it happen?"
In part, through redistricting. It turned many states toward GOP control, many of them with not just Republican governors but also Republican-controlled state legislatures. Billionaire Republican donors, particularly energy magnates Charles and David Koch, have proven to be significant supporters of such candidates, especially Walker. Their foundations and sprawling networks of political organizations have given tens of millions of dollars to support 'right to work' laws.
None of this would be possible without voters. Sadly, there are plenty of Americans who may be driving freight for minimum wage and are full of resentment for Teamsters making $33 an hour driving for United Parcel Service Inc.
"One Teamster local officer put it this way: 'You'd think instead of saying, "It's outrageous that UPS drivers make $33 an hour," they'd be saying, "Hey, what can I do to make $33 an hour?"'
But 'right to work' laws have spread to 26 states…because most Americans aren't in unions and don't see what stake they have in them."
Bernie for Labor
"When I first met Brooklyn-born Bernie Sanders, he was a relatively marginal figure in his adopted state of Vermont," writes Steve Early in Jacobin. "It was 1976 and he was running, unsuccessfully and for the fourth time, as a candidate of the Liberty Union Party.
"Sanders's appeal for working-class support in 1976 seemed most persuasive to rank and file representatives of the United Electrical Workers. They were, of course, members of a left-led national organization that had long favored political action outside the Democratic Party.
"However, in deference to their more cautious colleagues, the UEW members politely went along with the Labor Forum majority, which, per usual, voted to endorse Vermont Democrats, despite Liberty Union's superior labor bona fides.
"When Sanders comes knocking on doors, looking for support in his presidential primary challenge, trade unionists in other states should remember his long history of helping Vermont workers get their act together, in politics, organizing and contract strikes. It's a track record that few 'friends of labor' can match.
"The result, according to Sanders, was that 'large numbers of people who previously had not participated in the political process got involved.'"
Now a senator from Vermont, Bernie Sanders formally launched his long-shot bid to set aside Hillary Clinton from the left in May in a Burlington, Vermont park, writes Ben Jacobs in The Guardian UK.
Sanders, calling himself a "Democratic socialist," began a populist campaign focused on three issues: income inequality, campaign finance reform and fighting climate change.
He told the crowd of flag-waving supporters on the sparkling shore of Lake Champlain, "Today, with your support and the support of millions of people throughout this country, we begin a political revolution to transform our country economically, politically, socially and environmentally.
"There is something profoundly wrong when 99 percent of all new income goes to the top 1 percent," he added. "This grotesque level of inequality is immoral. It is bad economics. It is unsustainable. This type of rigged economy is not what America is supposed to be about…
"The issue of wealth and income inequality is the great moral issue of our time, it is the great economic issue of our time and it is the great political issue of our time. And we will address it."