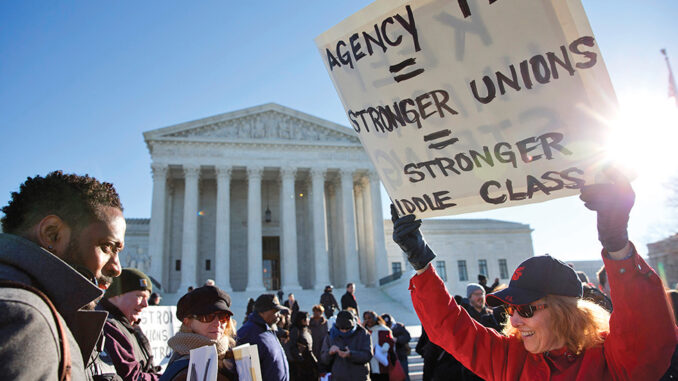 A case that seemed poised to lower the boom on public unions ended in a 4-4 tie at the Supreme Court at the end of March, delivering a big victory to unions, writes Adam Liptak in The New York Times.
When the case was first argued in January, the Court's conservative majority seemed ready to say that forcing public sector workers to support unions they had refused to join violates the First Amendment.
But the death of Justice Antonin Scalia in February shifted the balance of power in the case, brought by California public schoolteachers who preferred not to join unions and objected to paying for the unions' collective bargaining efforts from which they benefited.
A ruling for the teachers' case would have affected millions of government workers and destabilized public sector unions, which would have lost fees from workers who objected to the advocacy positions the unions take and from those who simply opt out of joining while benefiting from the unions' negotiating efforts on their behalf, adds Liptak.
Under California law, public employees who decline union membership must pay a "fair share service fee," also known as an "agency fee," generally equivalent to members' dues. The fees are meant to pay for collective bargaining.
The case, Friedrichs v. California Teachers Association, No. 14-915, asked whether such workers must continue to pay for union activities, including negotiating for better wages and benefits. Before Scalia's death, a majority of the justices seemed ready to vote no.
The previous lower court ruling on Freidrichs used a 1977 Supreme Court precedent called Abood v. Detroit Board of Education, allowing it to leave intact the requirement that the objecting teachers pay fees. Ultimately, the current Supreme Court upheld the previous mandate and set no new precedent.
The decision was hailed by the presidents of five of the nation's largest public sector unions: Eric Heins of the California Teachers Association (CTA), Lily Ekelson Garcia of the National Education Association (NEA), Randi Weingarten of the American Federation of Teachers (AFT), Lee Saunders of the American Federation of State, County and Municipal Workers (AFSCME), and Mary Kay Henry of the Service Employees International Union (SEIU). Each union leader cautioned that the fight against groups that seek to weaken unions is not over.
Heins said, "Nobody is under the illusion that [Friedrichs] will stop attacks" against public sector unions, emphasizing that corporate interests behind those attacks "have a lot of money."
The union leaders said they have and will continue to work together to make their voices heard and educate their members as numerous similar cases wind their way through the courts and various states try to implement "Right to Work" legislation, writes Vin Gurrieri in 360 Law.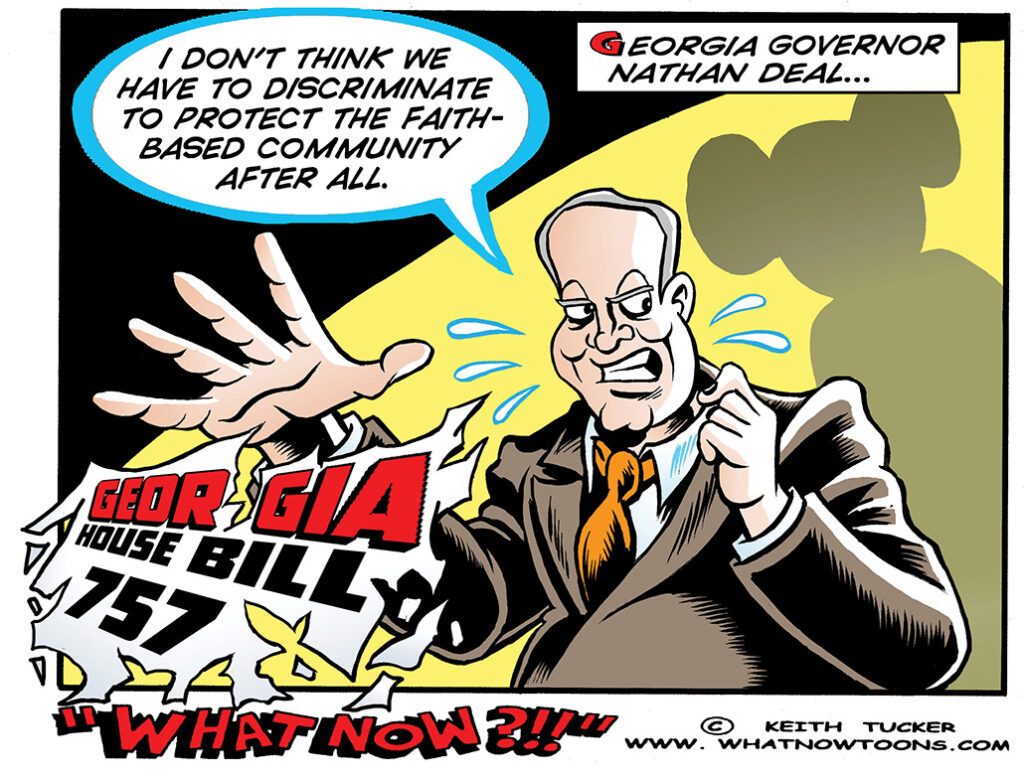 GA Governor Bows to Boycott Threats
In a victory for gay rights groups, Georgia Governor Nathan Deal in late March said that he would veto a proposal intended to strengthen legal protections for critics of same-sex marriage, write Alan Blinder and Richard Pérez-Peña in The New York Times.
"I do not think that we have to discriminate against anyone to protect the faith-based community in Georgia," Deal said at a news conference at the State Capitol in Atlanta.
Deal announced his decision less than two weeks after the Georgia General Assembly approved House Bill 757, which offered protections to faith-based groups if they refused to provide "social, educational or charitable services that violate" their religious beliefs. Walt Disney Company announced on March 23 that it would "take [its] business elsewhere should any legislation allowing discriminatory practices be signed into state law." Currently, Marvel/Disney's Guardians of the Galaxy 2 is filming at Pinewood Studios outside Atlanta.
Among the many features and TV series working in the state, AMC's blockbuster The Walking Dead and Halt & Catch Fire shoot in Georgia. "As a company, AMC Networks believes that discrimination of any kind is reprehensible," a spokesman for the network said. Tyler Perry is building his new studio complex at the former Fort McPherson Army Base in southwest Atlanta. The director-actor-producer has said that when complete, the complex will be "bigger than Warner Bros."
Critics called the bill a poorly masked effort to allow discrimination. Hundreds of companies warned the governor against signing the bill. Disney followed the lead of the NFL, which signaled that Georgia could miss out on economic opportunities, like hosting a Super Bowl in 2019 or 2020. An NFL spokesperson cautioned that local laws should meet league policies that "emphasize tolerance and inclusiveness, and prohibit discrimination based on age, gender, race, religion, sexual orientation or any other improper standard," according to Dominic Patten in Deadline Hollywood.
CA, NY to Raise Minimum Wage to $15
California and New York will become the highest-paid minimum-wage states in the nation after their governors each reached deals with lawmakers to raise the lowest amount a worker can be paid to a record-breaking $15 an hour, write Alison Noon and Jonathan Cooper in The Los Angeles Times.
California Governor Jerry Brown and New York Governor Andrew Cuomo reached deals in the final days of March to raise the states' base wages.
"California takes a massive leap forward today in the fight to rebalance our nation's economy," said Art Pulaski, executive secretary-treasurer of the California Labor Federation. California's current $10-an-hour minimum wage is slightly higher than New York's $9 minimum wage.
Democrats who control both legislative chambers in California praised the increase as a boon to more than 2 million workers. The increases would start with a bump from $10 to $10.50 on January 1, 2017. Businesses with 25 or fewer employees would have an extra year to comply, add Noon and Cooper. Boosts of $1 an hour would come every January until 2022. The governor could delay increases if there are budgetary or economic downturns.
The deal reached in New York would be phased in regionally. It would also eventually affect more than 2 million workers. The wage would rise to $15 by the end of 2018, though businesses with fewer than 10 employees would get an extra year. In the suburbs near New York City, the wage would climb to $15 by the end of 2022. The increases are more gradual upstate, where the wage would hit $15 based on a yet-to-be-determined schedule.
Economists have long debated the impact of a higher minimum wage. Some studies have found that higher wages contributed to job cuts, while others found little effect on hiring because employers could absorb the costs or pass them along to customers. Either way, higher minimum wage thresholds lead to more money pumped back into the economy.
Candidates Debate Minimum Wage
In April, frontrunner Democratic presidential candidate Hillary Clinton stood proudly with New York Governor Andrew Cuomo as he signed legislation to raise the state's minimum wage to $15 an hour. "We need to build on what was done here in New York and go all the way to Washington and raise the minimum wage for everybody," she said. Clinton offered a nuanced plan to raise the minimum wage to different levels based on economic conditions on the ground. Clinton has allied herself with Senator Patty Murray (D-Washington), who introduced a bill in 2015 to increase the minimum wage, in steps, from its current level of $7.25 to $12 by 2020.
Clinton's rival, Senator Bernie Sanders, has taken a more difficult route, calling for a national $15 an hour minimum wage. Presumptive Republican nominee Donald Trump had dismissed the notion of a minimum wage hike. At a televised debate in November, Trump said "They were talking about increasing the minimum wage. And whether it's taxes or minimum wages, if they're too high, we're not going to be able to compete with other countries… I hate to say it, but we have to leave it the way it is," he told debate moderator Neil Cavuto of Fox News. At press time in early May, however, Trump told CNN that he's "open" to seeing low-wage workers make more than the current minimum wage by having them get "better jobs" that pay more.
"There is essentially a kind of sub-primary between Sanders and Trump in the battle of ideas in opposing the establishment and promoting real and powerful change," writes Brent Dudowsky in The Hill. In a potential "Sanders-Trump contest for the anti-establishment mantle" Dudowsky sees polling advantages for Sanders.
"[To] white, blue-collar workers — often called 'Reagan Democrats' — the Sanders form of populism has great appeal… He offers strong opposition to insiders, strong support for increased minimum wage and strong opposition to trade agreements that are seen as having lost American jobs. Trump also opposes many of the same trade policies that Sanders opposes, but Trump…has stated that, in his opinion, American workers are actually overpaid — an absurd notion that is offensive to working-class Reagan Democrats and blue-collar workers generally."
SAG-AFTRA President Ken Howard Dies at 71
Ken Howard, president of SAG-AFTRA and an actor known for his role on TV's The White Shadow, died on March 23 at age 71. No cause of death was given.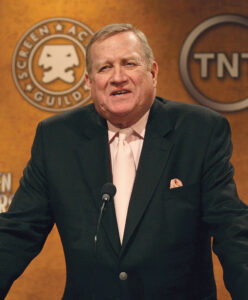 Howard was a Tony- and Emmy-winning actor whose legacy was the merger of SAG and AFTRA. The merger's success was a tribute to Howard's commitment to the idea of one union covering all film and TV performers, broadcasters and recording artists, writes David Robb in Deadline Hollywood. Howard died just a week short of the combined entity's fourth anniversary.
Howard was born in El Centro, California in 1944, and grew up on Long Island. He attended Amherst College and Yale School of Drama before joining the cast of Neil Simon's Promises, Promises on Broadway, writes Mark Olsen in The Los Angeles Times. His performance in Child's Play won him a Tony award in 1970. That performance got the attention of director Otto Preminger, who cast Howard opposite Liza Minnelli in the film Tell Me That You Love Me, Junie Moon. Later, the 6-foot-6 Howard found his most iconic role as a former pro basketball player-turned-inner-city high school coach in The White Shadow, which lasted for three seasons on CBS before ending in 1981.
"The best way to honor his legacy will be for all performers — even those who opposed the merger — to work hard to see that his dream of a stronger union becomes a reality," writes David Robb in Deadline Hollywood. "With his passing, there could be no better time to put aside old differences."
Actor Gabrielle Carteris, who was serving as SAG-AFTRA's acting president since Howard's death, was elected president by the union's board to fill out the remainder of his term, the union announced in early April. She will serve until August 2017.
'Midnight Rider' Director Released
Movie director Randall Miller was released from jail in late March after serving a year behind bars for the death of a crewmember killed by a train during filming of Midnight Rider, a movie about musician Gregg Allman, according to the Associated Press.
Wayne County Sheriff John Carter confirmed that Miller had been freed shortly after a court appearance. The director had been jailed since March 2015, when he pleaded guilty to involuntary manslaughter in the death of 27-year-old camera assistant Sarah Jones. He was given a two-year sentence.
Jones' parents told Superior Court Judge Anthony Harrison they opposed Miller's early release. Her father said his chief concern wasn't punishing Miller but sending the strongest possible message to Hollywood to improve safety conditions on film sets.
"The message we did not want to send is that because you may be a movie director, you may be getting off lightly," Richard Jones said after the hearing. "Sarah's dead, for heaven's sake. These were just blatant decisions that put these people in danger unnecessarily."