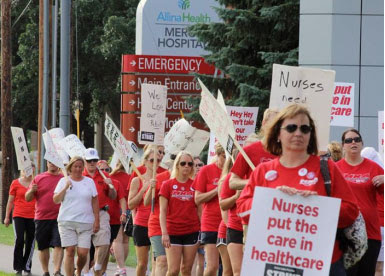 Reprinted from The New York Times by The Associated Press on September 5, 2016.
Thousands of nurses at five Minnesota hospitals on Monday began an open-ended strike in a dispute over health insurance, workplace safety and staffing.
Clad in red T-shirts, members of the Minnesota Nurses Association, which represents about 4,800 nurses at five Twin Cities-area hospitals run by Allina Health, hit the picket lines at 7 a.m. on Labor Day. They were joined by supporters from other unions. A 22-hour bargaining session ended without agreement early Saturday, and no new talks are scheduled.
Allina says it plans to operate the affected hospitals at normal capacity with around 1,500 temporary nurses…