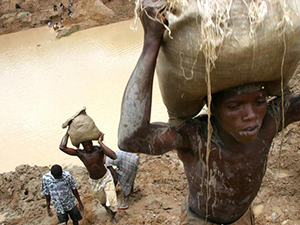 Reprinted from The New York Times by Reuters on September 29, 2016.
Leading electric carmakers may be unwittingly using child labor to produce batteries for vehicles that have grown in popularity for using clean energy aimed at limiting global warming, Amnesty International said on Friday.
The human rights watchdog said cobalt used in lithium ion batteries for electric vehicles, phones and laptops could come from mines in Democratic Republic of Congo (DRC) that use child labor.
It accused carmakers including GM, Renault-Nissan, Fiat Chrysler, Volkswagen, Daimler and Tesla of failing to map the supply of cobalt from mines in Congo to smelters and on to battery-makers.
As a result, electric cars sold across the globe could contain traces of the metal produced each year by informal Congolese mines without companies knowing, the group said.
"We have found that there is significant risk that cobalt mined by children could be entering their supply chains," said Mark Dummett, human rights researcher at Amnesty. …