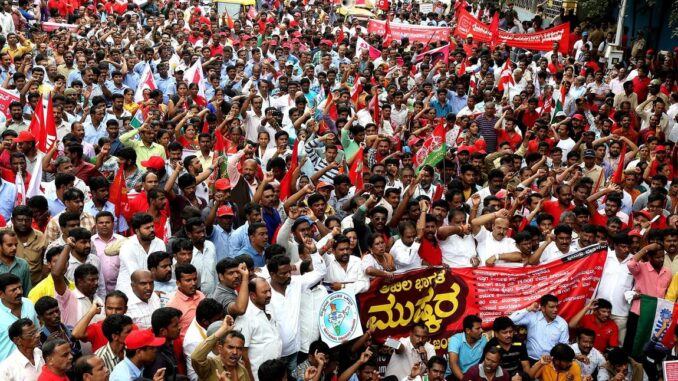 Reprinted from The Los Angeles Times by Shashank Bengali on September 14, 2016.
Earlier this month, tens of millions of Indian workers staged a one-day general strike that unions billed as the biggest work stoppage in human history.
By the unions' count, 180 million workers stayed home to demand a slew of changes to labor laws, including establishing a $270 monthly minimum wage for unskilled laborers and ensuring social security for every worker.
The 24-hour strike cost the Indian economy up to $2.7 billion, by one estimate, and affected electricity, mining, telecommunications, banking and insurance operations in several states.
It was the latest salvo in an escalating battle between India's leading public-sector trade unions and Prime Minister Narendra Modi's government, which they accuse of pursuing a pro-business agenda while ignoring workers' rights.
The unions represent several million workers in a country of 1.25 billion people. But the changes they are seeking would have the greatest effect on those who toil in India's vast informal economy, which by some measures includes 90% of the workforce…