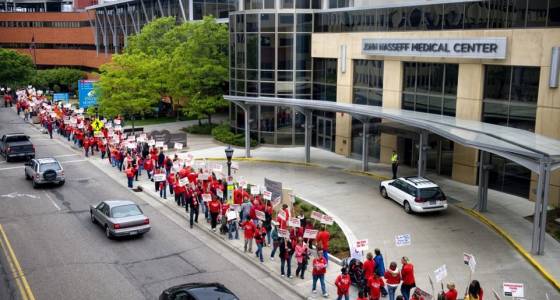 Reprinted from The Twin Cities/Pioneer Press by Tory Cooney on September 15, 2016.
As thousands of Twin Cities hospital nurses represented by the Minnesota Nurses Association went on an open-ended strike last week, their employer, Allina Health, brought in 1,500 traveling nurses — recruited and paid through staffing agencies — to operate its four metro-area hospitals and a clinic.
The replacement nurses traveled from across the country to fill in at United Hospital in St. Paul, Abbott Northwestern in Minneapolis, Unity in Fridley and Mercy in Coon Rapids, plus the Phillips Eye Institute in Minneapolis.
Two primary staffing agencies, Huffmaster and HealthSource Global Staffing, offered to pay the replacements $70.50 to $75 per hour to work at the striking hospitals, according to their websites. According to advertisements posted by Huffmaster and Healthsource, the agencies also will pay for the nurses' accommodations and travel expenses.
In comparison, the union nurses who walked out are paid between $31.27 and $48.15 an hour, with an average full-time Allina nurse's salary at $87,298 a year, before bonuses or overtime, Allina has said. Union nurses who work 16 hours a week or more are eligible for full benefits, including health insurance and retirement.
Allina could not verify what the replacement nurses are being paid and wouldn't say what the strike is costing overall. Representatives from the staffing agencies did not respond to requests for comment…