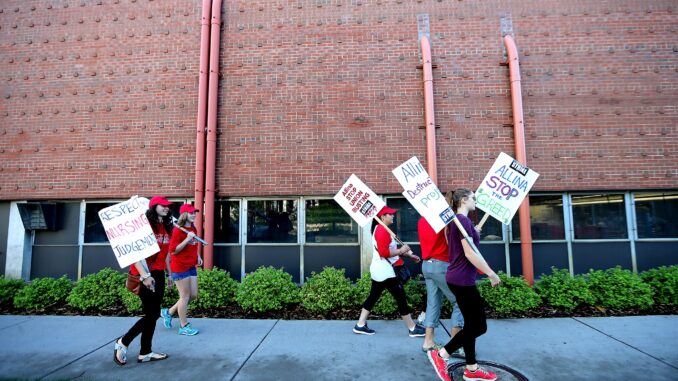 Reprinted from The Star Tribune by Jeremy Olson on September 19, 2016.
Allina Health and its striking nurses tried to portray one another as growing weaker Monday as the nurses' walkout reached its third week without a deal — or further talks — in sight.
Allina reported that more than 500 of the 4,800 striking nurses have called to say they want to return to work at the five affected hospitals. Meanwhile, the union said it received a report that an intensive care unit closed at Allina's flagship hospital, Abbott Northwestern in Minneapolis, amid turnover in replacement nurses. Allina could not be immediately reached for comment on the report.
Each side said the other bears responsibility to restart talks to resolve their differences, which center on nurses' health benefits.
Allina spokesman David Kanihan accused the union of emphasizing public relations over collective bargaining: "We believe (negotiations) will be most effective if both sides have a spirit of collaboration, which the union does not seem to have today," he said in a prepared statement.
And in a full-page ad in The Star Tribune on Sunday, Allina Chief Executive Dr. Penny Wheeler appealed to nurses to return to work. …