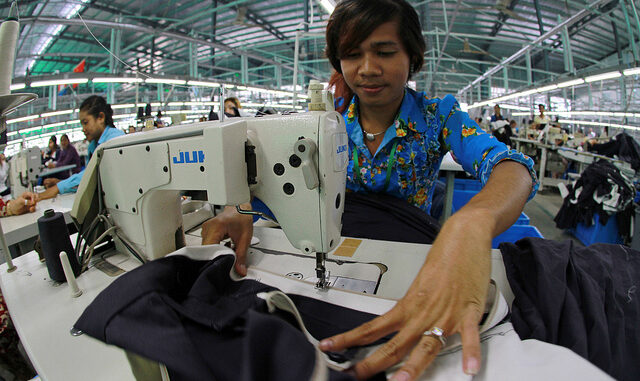 Reprinted from In These Times by Cole Stangler on September 23, 2016.
"Major Western retailers sourcing clothing from Cambodia—a country marked by authoritarian rule and regularly ranked as one of the world's worst countries for workers—are declining to endorse a proposed hike in the garment industry's minimum wage that amounts to roughly $40 a month," writes Cole Stangler in In These Times.
"Like many of its neighbors in Southeast Asia, Cambodia is a popular spot for American and European brands to subcontract production of textiles and shoes. It offers easy market access and, above all, cheap labor. Against that backdrop, garment and footwear exports have more than doubled over the past decade—with suppliers pulling in contracts from top-name corporations like Walmart and Nike.
"But the industry is not without conflict. In recent years, its overwhelmingly female workforce has led mass strikes and protests to demand higher wages, and several workers were killed in a police crackdown in January 2014. Further tension looms.
"This month, labor unions representing hundreds of thousands of garment workers proposed a hike in the industry-wide minimum wage from $140 a month to $179.60. They've been met with stiff opposition from the factory owners' lobby, the Garment Manufacturers Association in Cambodia, which countered with its own monthly minimum wage offer of $144.20. Many Western brands, too, have declined to endorse the unions' proposal.
"In These Times reached out to six of the top U.S. and European brands with contracts in Cambodia—Walmart, Nike, Adidas, Levi Strauss & Co., H&M and Gap Inc.—asking for their position on the unions' proposed minimum wage hike. None of them endorsed the proposal. Walmart and Nike did not respond; Adidas, Levi's, H&M and Gap all highlighted their support of ongoing negotiations. …