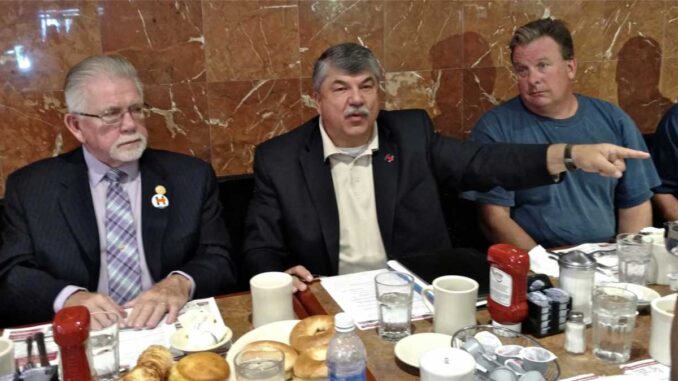 Reprinted from WHYY NewsWorks by Katie Colaneri on September 14, 2016.
More than one-third of union workers in swing states — including Pennsylvania — are backing Republican presidential nominee Donald Trump, according to a recent member survey by the AFL-CIO.
But that support is starting to wane, and the percentage of union workers for Trump has fallen by 5 points since the labor federation's last survey in June.
WHYY/NewsWorks sat down with the AFL-CIO's national president Richard Trumka, who was at the Oregon Diner in South Philadelphia Wednesday morning to stump for Democratic nominee Hillary Clinton at a roundtable with 14 local union workers. The Pennsylvania AFL-CIO has roughly 900,000 members.
Note: This interview has been edited for length and clarity.
Q: I understand you're from Southwestern Pennsylvania.
A: I am. I'm from a little mining town called Nemacolin, Pennsylvania, about 1,700 people right in the corner of the state in Greene County. Most of my family is still there as a matter of fact. Many of my cousins are still there. Most of them, if not all of them are union workers — mostly [coal] miners, a lot of schoolteachers that are in the union, one is a lineman and a couple are nurses.
Q: It's probably not a surprise to you that that part of the state is wary of Hillary Clinton …