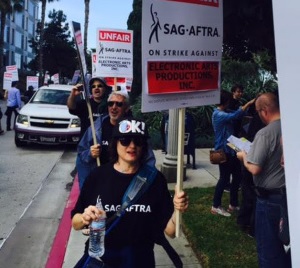 Reprinted from Deadline Hollywood by David Robb on October24, 2016.
More than 100 SAG-AFTRA members and their supporters took to the picket line Monday outside the Playa Vista, CA offices of Electronic Arts in the first job action of the union's four-day-old strike against the video game industry. Peaceful and joyous in solidarity, they carried "On Strike!" signs and chanted sing-song slogans: "Hey, hey, shut it down, LA is a union town!"
"What do we want?" the picketers around her shouted. "A fair contract! When do we want it? Now!"
In a show of solidarity, representatives from the WGA, the Musicians Union, IATSE and the Teamsters took up signs and joined the picket line. "We support our brothers and sisters at SAG-AFTRA, and we're here to walk in solidarity with them," said Teamsters Local 399 secretary-treasurer Steve Dayan.
The union has ordered its members to stop working on more than 100 of games produced by 11 major companies. Struck titles include Activision's Call Of Duty 4, EA's American Football 17, WB Games' Injustice 2, and Formosa Interactive'sBrothers In Arms. The union is also planning job actions at the other major companies in the days and weeks ahead. …