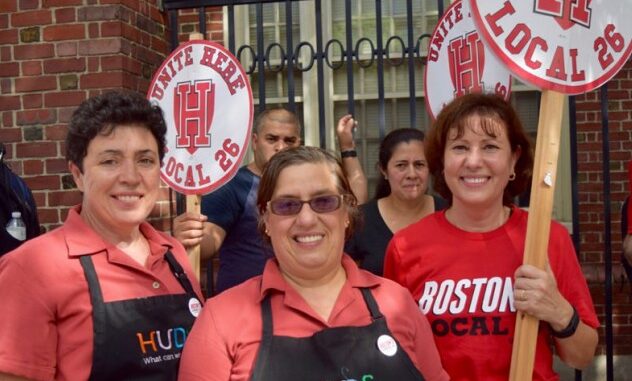 Reprinted from The Boston Globe by Adam Vaccaro on October 26, 2016.
Harvard University dining hall workers will return to work for Thursday morning's breakfast shift, ending the school's first strike in more than three decades, after they voted 583 to 1 Wednesday to approve a five-year labor contract.
Under terms of the deal, about 750 employees will be guaranteed wages of about $35,000 annually and won't have to pay more for health insurance, according to their union, Unite Here Local 26, satisfying the major demands that led to a three-week work stoppage.
 About 100 workers celebrated in Harvard Square Wednesday, chanting "Victory!" and "We love the students!" as union officials detailed the agreement.
"We achieved every goal, without exception, with no concessions to Harvard," said union president Brian Lang. He added that the outcome means minimum annual pay of $35,000 is "the new standard for food-service workers, and we're going to bring them out of poverty." Local 26 represents food-service employees at several Boston-area schools.