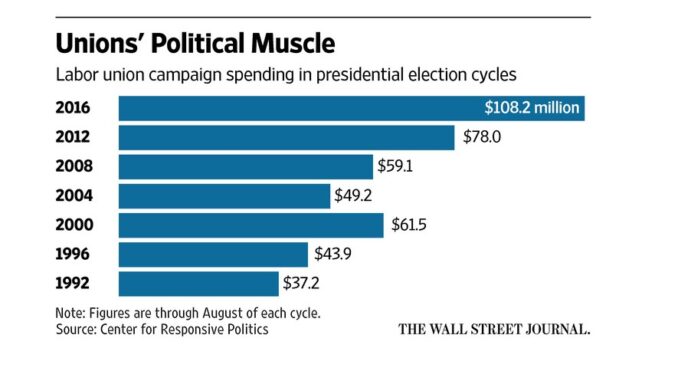 Reprinted from The Wall Street Journal by Brody Mullins, Rebecca Ballhaus and Michelle Hackman on October 18, 2016.
According to the most recent campaign-finance filings, unions spent nearly $110 million on the elections from January 2015 through the end of August, a 38% jump from $78 million during the same period leading up to the 2012 election, and nearly double their 2008 total during the same period.
Almost every large union is spending more than ever before seen in modern elections, funding rallies, canvassing efforts and ad campaigns to bolster Democrats. The AFL-CIO has spent $11.4 million funding outside political groups, such as super PACs, thus far, up from $5 million at this point in the 2012 election, according to the nonpartisan Center for Responsive Politics. The National Education Association has spent $14 million, up from $7.7 million.
The unions' efforts to support Mrs. Clinton are particularly crucial as polling shows white working-class voters—who often belong to labor unions—are drawn to Republican Donald Trump's campaign message. Trump has a 23-percentage-point advantage among white voters without a college degree, according to the most recent Wall Street Journal/NBC News poll. …