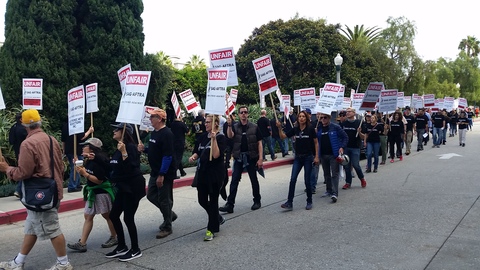 Reprinted from Deadline Hollywood by David Robb on October 24, 2016.
Video game companies struck by SAG-AFTRA released documents Monday that they say proves they had matched the union's requests for wages, benefits and additional compensation before the union called its strike last Friday. According to the companies, the documents also show that the two sides had reached an agreement to collaboratively investigate the vocal stress issues raised by the union during the term of the next contract.
"These proposals exchanged across the table prove the companies and SAG-AFTRA have largely agreed on the significant issues before us except for the label we have placed on the 'Additional Compensation,' which would be paid above and beyond our proposed 9% pay increase," said Scott Witlin, the companies' chief negotiator.
The latest salvo between the sides comes as SAG-AFTRA kicked off its first picket line of the strike, at Electronic Arts' headquarters in Playa Vista. The companies involved in the action include EA, Activision Publishing, Inc.; Blindlight, LLC; Corps of Discovery Films; Disney Character Voices, Inc.; Formosa Interactive, LLC; Insomniac Games, Inc.; Interactive Associates, Inc.; Take 2 Interactive Software; VoiceWorks Productions, Inc.; and WB Games, Inc.
Witlin reiterated that the companies have been impressed by the research presented by SAG-AFTRA into the issue of vocal stress and they attempted to address the concerns raised by the union's bargaining committee during negotiations. That included offering performers innovative working arrangements including split sessions and multiple performer sessions, but those proposals were rejected by SAG-AFTRA leaders. …