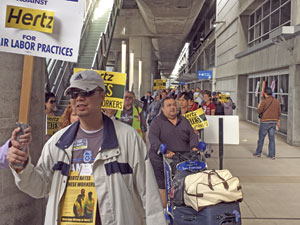 Reprinted from The San Mateo Daily Journal by Austin Walsh on November 8, 2016.
Drivers facing layoffs from the Hertz car rental company staged a work strike at San Francisco International Airport in protest of alleged unfair treatment from their corporate employer.
The strike and rally featuring nearly 100 frustrated workers took place Monday, November 7, outside the Hertz car rental office as drivers who say their jobs are threatened chanted and marched in solidarity.
More than 150 drivers, who shuttle rental cars from remote parking lots to be available for customers, were served termination notices as Hertz has opted to outsource their positions to a vendor specializing in such services.
Fed up with the perceived unwillingness of the company to consider postponing the layoffs for 90 days through the holiday season, workers joined with representatives from a local labor union to make their presence felt. …