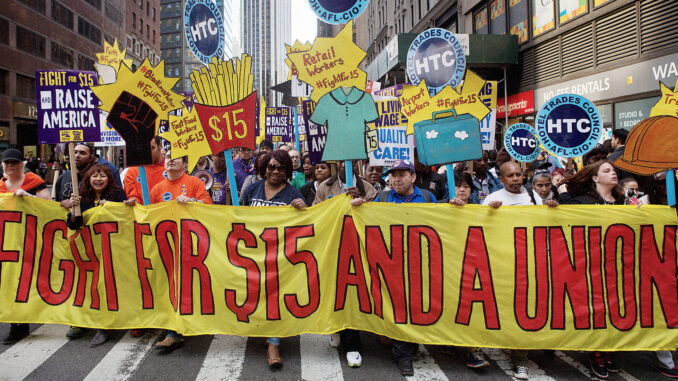 Reprinted from The New York Times by Reuters on November 29, 2016.
US workers from fast-food chains and nearly 20 airports staged sit-ins and some were arrested in nationwide protests for higher pay, union rights and immigration reform on Tuesday, their first major action since businessman Donald Trump won the presidential election.
McDonald's Corp restaurants in 340 cities were prime rally targets, while baggage handlers and cabin cleaners at Chicago's O'Hare and Boston's Logan international airports were due to demonstrate in support of workers demanding starting pay of $15 per hour, organizers of the "Fight for $15" campaign said.
More than 200 protesters gathered before dawn at Zuccotti Park in New York City's Financial District, the site of a camp set up in 2011 by Occupy Wall Street demonstrators, where they banged drums and chanted slogans calling for a $15 minimum wage.
About a dozen protesters were arrested after they blocked morning rush-hour traffic in the street near a McDonald's restaurant.
"When we started demanding $15 … people thought we were crazy, but we were just demanding the basic minimum to survive," said protestor Alvin Major, 50, a Guyanese immigrant who lives in Brooklyn and works at a KFC restaurant. …