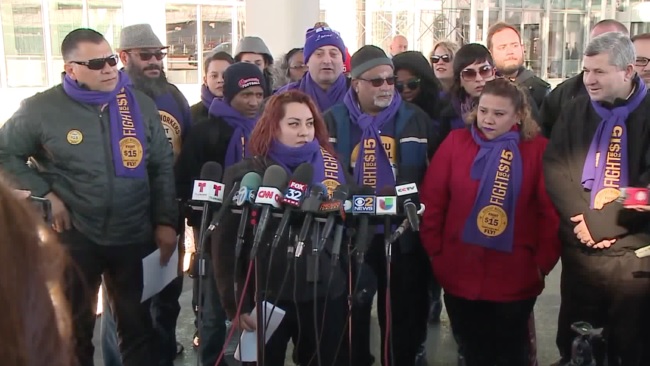 Reprinted from The Chicago Tribune by Alexia Elejalde-Ruiz on November 21, 2016.
A strike planned for November 29 at Chicago O'Hare International Airport will miss the Thanksgiving holiday's busiest travel days and coincide with a nationwide day of protests that the Fight for $15 movement claims will be its most disruptive yet.
The Fight for $15 asserted Monday that after the election of Donald Trump to the White House it "won't back down" from its activism in the face of an incoming administration it believes "threatens an extremist agenda to move the country to the right."
The campaign announced protests at 20 airports and strikes and acts of mass civil disobedience at McDonald's restaurants in 340 cities, including in Chicago and its suburbs. It said it expects "tens of thousands" of people to participate.
Airport and fast-food workers are expected to be joined on picket lines by child care workers, home care workers and graduate assistants, who are among the estimated 64 million U.S. workers who earn less than $15 an hour. …