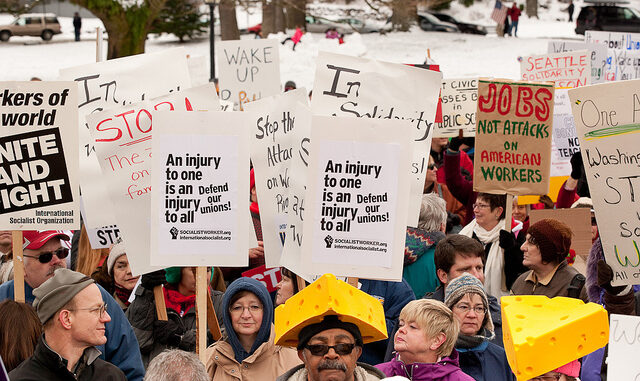 Reprinted from In These Times by Dave Kamper on November 18, 2016.
"No one who cares about the future of the American labor can disagree with the conclusion of Jane McAlevey's new book, No Shortcuts: Organizing for Power in the New Gilded Age," writes Dave Kamper in In These Times.
"She calls for a 'bottom-up organizing model, one that encourages and equips workers to resist the multifaceted assault on their interests inside and outside the workplace.' That sort of organizing is necessary for unions to survive and thrive, McAlevey writes, outlining both her book's greatest virtue and its biggest problem. She is right that organizing needs to be what the labor movement does, but wrong in her analysis of why unions aren't doing enough of it now.
"McAlevey's first book, Raising Expectations (and Raising Hell), was built around her personal experiences as a union organizer. It had an intense, you-are-there quality that is rare and made the book a must-read. Drawing from her work with the Service Employees International Union in Las Vegas in the mid-2000s, McAlevey argued that the US labor movement had abandoned 'deep organizing' for 'shallow mobilizing,' and that recovering what McAlevey calls 'whole worker organizing' is key to a revived labor movement.
"No Shortcuts aims to extend that argument. …
In These Times 11/18