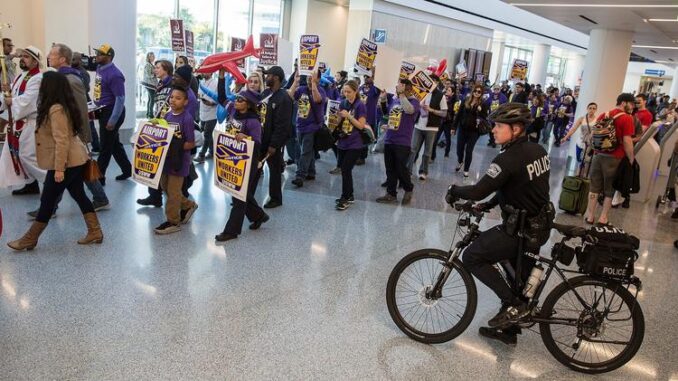 Reprinted in The Los Angeles Times by Samantha Masunaga on November 29, 2016.
In a scene reminiscent of old-fashioned labor activism, workers and their supporters marched Tuesday through Los Angeles International Airport and in airports and restaurants across the US, demanding higher pay and union representation for low-wage workers.
The protests were peaceful, but they may just be a prelude of battles to come, as unions face a new administration in Washington and efforts to roll back labor victories.
In recent years, California and other states and cities have increased their minimum wages. A federal ruling put employers on the hook for labor violations, even if they used workers hired by another business. And another federal ruling sped up the union election process.
But labor economists say that under the Trump administration, and a Republican-controlled Congress, some of these issues, as well as unionization in general, could be curtailed. …