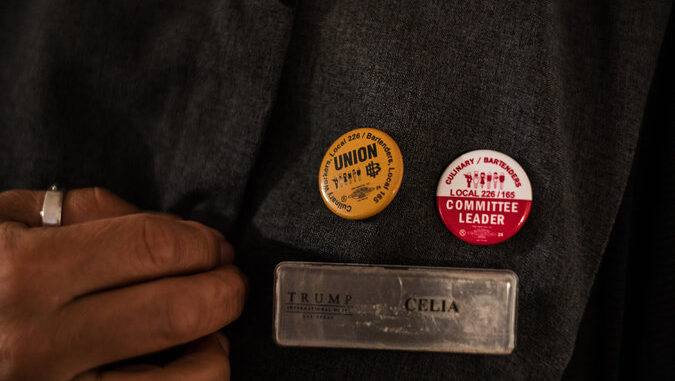 Reprinted from The New York Times by Dan Barry on November 5, 2016.
She begins her day in black, the natural black before dawn and the requisite black of her uniform: the T-shirt, the pants, the socks, the shoes with slip-resistant treads, all black. The outfit announces deference.
She crams fresh vegetables into a blender and holds a plate over its mouth as the machine whips up her green liquid breakfast. Its whine sounds the alarm for her four school-age grandchildren who, one by one, emerge sleepwalking from corners of their crammed rented house.
Time to go. Before shepherding the children into her silver Jeep Patriot, the woman straps on a fabric back brace and covers it with the last piece of her uniform, a gray and black tunic. Then, above her left breast, she pins two small union buttons beside her silver name tag. The combined effect says:
This is Celia. Underestimate her at your risk.
Celia Vargas, 57, with dark wavy hair restrained by a clasp, works at one of the hotels in perpetual gleam along and around the Strip. She is a "guest room attendant" and a member of the Culinary Union, one of more than 14,000 who clean hotel rooms while guests donate money to the casino of their choice.
Vargas, who is from El Salvador, and her Latina union colleagues are a growing force in the politics and culture of Nevada, vocal in their beliefs and expectations. Their 57,000-member Culinary Union, a powerful supporter of Nevada Democrats, is now 56 percent Latino — a jump from 35 percent just 20 years ago. …