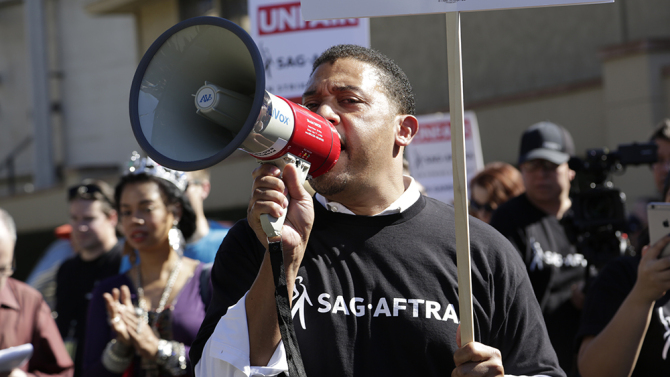 Reprinted from Variety by Dave McNary on November 3, 2016.
SAG-AFTRA drew several hundred supporters to picket Warner Brothers in Burbank, California, for Thursday, the second demonstration since the performers union went on strike against video game companies on October 21.
The union drew more than 100 supporters on October 24 at Electronic Arts in Playa del Rey, California, to back the strike. SAG-AFTRA launched the strike by voice actors against EA, Warner Brothers, and nine other video game makers after negotiations cratered over the key issues of secondary compensation (residuals) and transparency for voice actors — meaning that the union wants companies to stop being able to hire without identifying the game.
SAG-AFTRA received support for Thursday's picket from the American Federation of Musicians, the Writers Guild of America West, and the Intl. Alliance of Theatrical Stage Workers. WB Games, Inc. and Voiceworks Productions were the targets.
SAG-AFTRA national executive director David White said, "We are ready to make a deal today if our bargaining partners will accept a reasonable contract that helps performers and corporations alike. Our members want to be back in the motion capture volume and recording booths using their talent to help bring these games to life. But we can't do that until we have a fair deal that recognizes their contributions to the success of these games." …