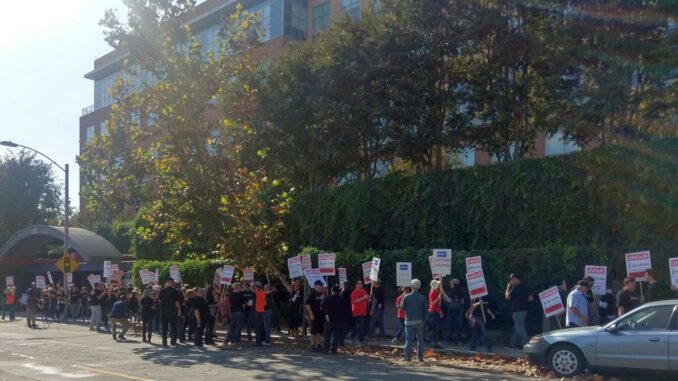 Reprinted from Variety by Dave McNary on November 17, 2016.
In its third action in a month-long strike, as many as 400 SAG-AFTRA members picketed video game producer Insomniac Games at its Burbank offices on Thursday.
"This is the membership saying to the companies, 'We want a fair contract,' " SAG-AFTRA president Gabrielle Carteris told Variety. "What they offered a month ago is not a fair proposal. That's why we're here today."
The union has asserted that more than 700 members and supporters have attended the first two pickets, which were held October 24 at Electronic Arts and on November 3 at Warner Brothers, where national exec director David White spoke with a bullhorn.
SAG-AFTRA called a strike against 11 video game producers on October 21: Insomniac Games; Warner Brothers; EA; Activision Publishing; Blindlight; Corps of Discovery Films; Disney Character Voices, Inc.; Formosa Interactive, LLC; Interactive Associates; Take 2 Interactive Software; and VoiceWorks Productions. …