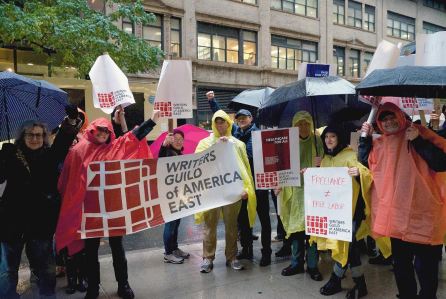 Reprinted from Deadline Hollywood by David Robb on November 15, 2016.
3RD UPDATE, 4:28 PM Thursday: It's been a little more than an hour since the last salvo in the verbal battle between the WGA East and Leftfield Entertainment/Loud TV, but the silence is over. In their continuing – and increasingly pointed – tête–à–tête about their ongoing contract negotiations, Leftfield Entertainment and its subsidiary have fired back at the union, claiming in their latest broadside that WGAE "continues to embarrass itself by mischaracterizing the facts and discussions surrounding our negotiations. Their further comments are oversimplifications, ridiculous and false. Leftfield and Loud TV will continue our efforts at the bargaining table and will not be commenting further on today's events."
2ND UPDATE, 3:16 PM: The WGA East has taken its dispute with Leftfield Entertainment from the bargaining table to the streets of Manhattan and now to the press in an exchange of words over what's at stake in the ongoing contract negotiations.
The union has responded to Leftfield's response to the guild's picketing of A&E earlier Thursday in rainy New York City, WGA East executive director Lowell Peterson released a statement further clarifying its position that the production company called out as "pure propaganda."
"We do intend to continue to bargain in good faith," Peterson said in a just-released statement. "And the parties have made some progress in some areas. But the company has been – yes – 'stonewalling' is not a bad word to describe the company's position on pay minimums. We don't even have agreement on the basic terms of any labor-management agreement such as grievance and arbitration, union security, and the term of the contract. So we have real work to do." ….