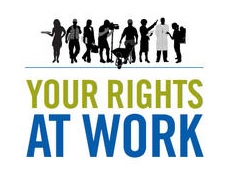 Reprinted from The AFL-CIO Now by Kenneth Quinnell on November 30, 2016.
Since Donald Trump won the election, nearly 900 incidents of violence, hate speech and harassment have been reported. In light of these attacks, it's important that you know what your rights are and what you can do if you or someone you know is the target of one of these attacks in the workplace. Click on the links to learn more about your rights, what constitutes illegal activity and what you can do about it if you are targeted.
Disability: The Americans with Disabilities Act requires employers to make reasonable accommodations to enable an otherwise qualified person with a disability to do his or her job. A reasonable accommodation is any change in the work environment (or in the way things are usually done) to help an individual with a disability apply for a job or perform the duties of a job. An employer does not have to provide a reasonable accommodation if it imposes an "undue hardship" on the employer. An employer is not required to lower quality or production standards to make an accommodation.
Gender Discrimination: No one should be typecast into—or out of—a job or profession because of gender. Gender discrimination involves treating someone (an applicant or employee) unfavorably because of the person's gender. The law forbids discrimination in all aspects of employment, including hiring, firing, job assignments, layoff, training, fringe benefits and any other term or condition of employment. An employment policy or practice that applies to everyone, irrespective of gender, can be illegal if it has a negative impact on the employment of people of a certain gender and is not job related or necessary to the operation of the business. …