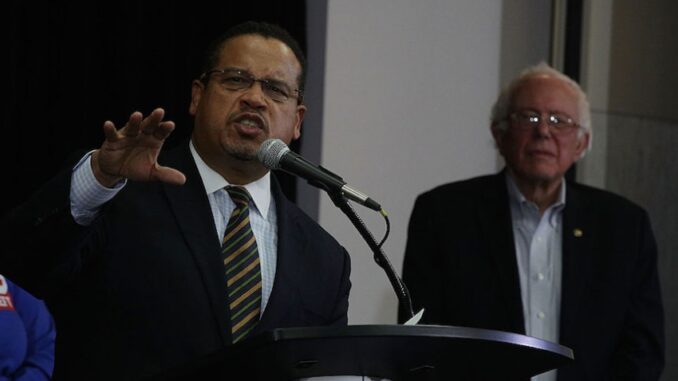 Reprinted from In These Times by Keith Ellison and Bernie Sanders on December 20, 2016.
On December 14, the political advocacy group Our Revolution hosted a livestream event with Senator Bernie Sanders (I-Vermont) and Representative Keith Ellison (D-Minnesota) discussing the need to reform the Democratic Party. Both Sanders and Our Revolution have endorsed Ellison in his campaign to be the next chair of the Democratic National Committee (DNC). What follows is an abridged transcript of their remarks, edited for length and clarity.
Bernie: "What we are doing tonight is not sexy, and it's not going to make the headlines in the newspapers all over the country, but it is unprecedented for the Democratic Party and for the long-term future of our country, and it is of enormous consequence. At a time of low voter turnout, at a time when millions of Americans are demoralized politically and are sick and tired of establishment politics and establishment economics, we are gathered here tonight not only in this building but all over America to begin the process of transforming American politics and of creating a government which works for all of the people—not just the 1%.
"That is what we are here to do, and in order to make that happen our first step is to transform the Democratic Party from a top-down party to a bottom-up body, to create a grassroots organization of the working families of this country, the young people of this country. I will tell you, having been all over this great nation of ours, there is an incredible idealism of millions of young people who believe in this country and who love this country and are prepared to fight to make this country all that we can become. I want to also urge all Americans regardless of income, regardless of their race, their nationality, their sexual orientation, to jump into the political process and make the Democratic Party a democratic party with a small 'd,' not just a capital 'd.' …