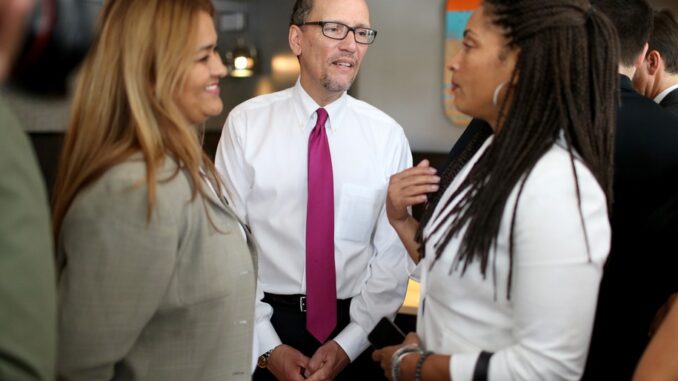 Reprinted from The Daily Kos by Laura Clawson on December 15, 2016.
Labor Secretary Tom Perez is running for Democratic National Committee chair, he told DNC members Thursday after a lot of very heavy hinting. Perez has been an effective and respected labor secretary, but he enters the DNC race after Representative Keith Ellison has locked up a great deal of support, including the AFL-CIO endorsement.
With President Obama forced to work largely through executive action in his second term, Perez's Labor Department has been the site of many of Obama's major recent accomplishments, such as the expansion of overtime eligibility to millions more workers (currently held up in the courts).
Perez has proven himself an able handyman, steering a dizzying array of labor rules and regulations through Washington's often-stymied bureaucracy despite constant political threats and general hostility coming from Republicans and the business lobby. Those include not only the overtime rule, but an expansion of federal labor protections to cover home-care workers; a long-shot crusade to establish new standards in the retirement-advising industry; an executive order to use the federal government's contracting process to create good jobs; and a stern guidance aimed at stopping rampant worker misclassification. …
Ellison is the early leader for the job, racking up scores of endorsements from progressive groups, labor unions and top Democratic lawmakers on Capitol Hill.
Just hours before Perez announced his bid, Ellison's team rolled out an expansive list of backers that includes nine US senators and 25 members of the House.
Perez's allies have dismissed those endorsements and cast Ellison as the favorite of the Washington insiders who aren't among the 447 that will vote in the February election.
Ellison countered with endorsements from 15 state party chairs or vice chairs who will have a say in the contest.
…