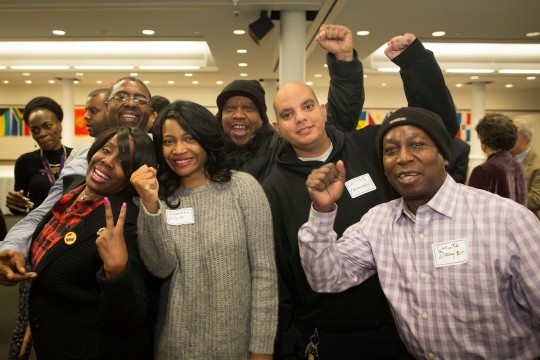 Reprinted from the SEIU website, uncredited, on December 15, 2016.
In 2012, a small group of New Jersey airport workers began to organize for higher wages and union representation with 32BJ SEIU. Their movement quickly grew and soon baggage handlers, airport security officers, wheelchair attendants, skycaps, cabin cleaners and terminal cleaners at JFK, LaGuardia and around the country took up their call for $15 and a union at our nation's airports.
On Thursday, after four years of organizing and 7 months of negotiations, 8,000 New Jersey and New York contracted airport workers settled their first union contract. The tentative agreement provides important workplace rights and protections including seniority rules, scheduling protocols, disciplinary procedures and health and safety guidelines under 11 airline subcontractors who have given their employees union recognition. Covering more than half of the subcontracted airport workers at JFK, LGA and EWR airports, the contract sets a new industry standard for both New York and New Jersey workers and provides a framework for unionizing subcontracted airport workers nationwide.
"This is a historic moment for airport workers not only in New York and New Jersey, but for workers around the country," said Hector Figueroa, president of 32BJ SEIU. "It has been a long time since such a large group of workers have been able to successfully organize for union membership; this contract shows that despite a changing political landscape and ongoing struggle, workers will always find ways to come together to better their jobs and their lives."
The new contract is expected to be ratified by airport workers over the next week. For New York airport workers, who will receive their first raise towards the state's $15 minimum wage in January, the contract settlement means they are one of the first groups of workers in the whole country to win both $15 and a union. …