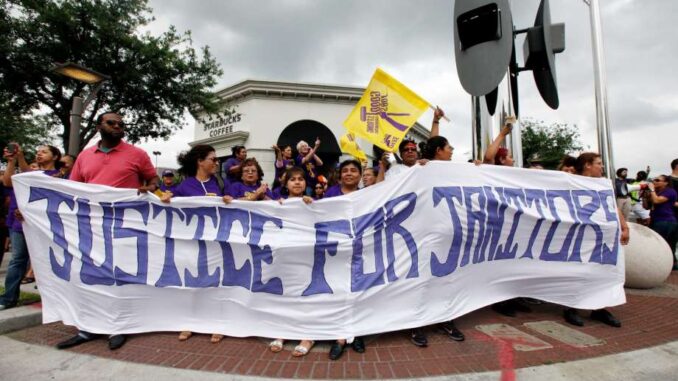 Reprinted from The San Francisco Chronicle by L.M. Sixel on December 5, 2016.
The Service Employees International Union in Texas filed for bankruptcy protection over the weekend, three months after a jury in Harris County hit it with a $5.3 million judgment.
Jurors in the 9-year-old case determined the union's aggressive organizing campaign maligned Professional Janitorial Service, a commercial cleaning company.
The Texas branch of the nation's second-largest labor union filed the bankruptcy petition Saturday in federal court in Corpus Christi. The union also filed notice with the Harris County court hearing the case that the bankruptcy petition will prevent the janitorial company from taking possession of property belonging to the union. …
"This (bankruptcy) filing ensures that our union will remain open for business, representing members at the bargaining table and maintaining the vital role the union plays in helping working Houstonians have a voice at work, protecting them from unfair employers, and building a better future for their families," according to a written statement from Elsa Caballero, president of SEIU Texas. …