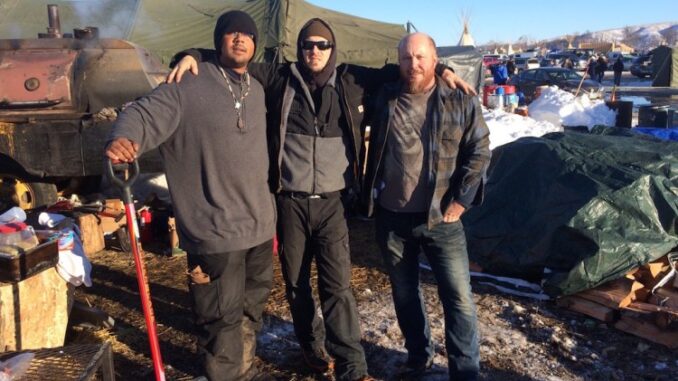 Reprinted from Labor Press and is unattributed, posted on December 14, 2016.
The standoff at North Dakota's Standing Rock Sioux Reservation — with Indian tribes and supporters on one side, and police and private security for the Dakota Access Pipeline on the other – also finds labor union members on both sides.
North America's Building Trades Unions and the AFL-CIO have come out in favor of the project moving forward, because it's a big source of union jobs. But other labor organizations have declared support for pipeline protesters, and in Oregon and Washington, a number of union members have traveled to Standing Rock to take part in the massive protest encampment — a nonviolent uprising that has united Indian tribes nationwide.
Roben White — a retired union painter and former president of Painters Local 10 — is one of them. White is of mixed Lakota Sioux and Cheyenne ancestry on his father's side, and he's an enrolled member of the Oglala Lakota tribe at the Pine Ridge Indian Reservation in South Dakota. He's also a staunch unionist who says he was pained to see unions take a stand he disagrees with. …
AFL-CIO President Richard Trumka weighed in with an official statement on the pipeline: "The AFL-CIO supports pipeline construction as part of a comprehensive energy policy," he declared September 15. "Pipeline construction and maintenance provides quality jobs to tens of thousands of skilled workers," Trumka said. Community involvement is important, Trumka said, particularly in situations involving places of significance to Native Americans, but, he added, "once these processes have been completed, it is fundamentally unfair to hold union members' livelihoods and their families' financial security hostage to endless delay.… Furthermore, trying to make climate policy by attacking individual construction projects is neither effective nor fair to the workers involved." …