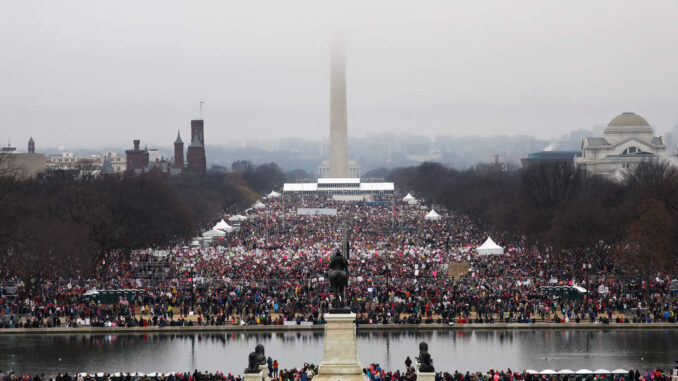 Reprinted from The New York Times by Susan Chira and Yamiche Alcindor on January 21, 2017.
The day after what many had assumed would be the inauguration of the first female president, hundreds of thousands of women flooded the streets of Washington, and many more marched in cities across the country, in defiant, jubilant rallies against the man who defeated her.
Protesters jammed the streets near the Capitol for the main demonstration, packed so tightly at times that they could barely move. In Chicago, the size of a rally so quickly outgrew early estimates that the official march that was scheduled to follow was canceled for safety, though many paraded through downtown, anyway.
In Manhattan, Fifth Avenue became a tide of signs and symbolic pink hats, while in downtown Los Angeles, shouts of "love trumps hate" echoed along a one-mile route leading to City Hall, with many demonstrators spilling over into adjacent streets in a huge, festival-like atmosphere.
The marches were the kickoff for what their leaders hope will be a sustained campaign of protest in a polarized nation, riven by an election that raised unsettling questions about American values, out-of-touch elites and barriers to women's ambitions. …