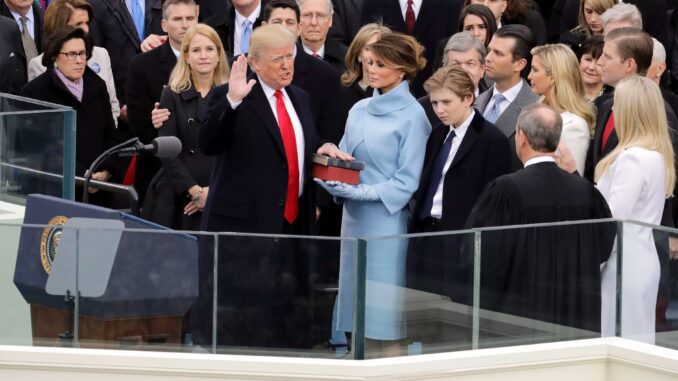 Reprinted from The New York Times by Peter Baker and Michael Shear on January 20, 2017.
Donald John Trump was inaugurated as the 45th president of the United States on Friday, ushering in a new and more unpredictable era in which he vowed to shatter the established order and restore American greatness.
From the West Front of the Capitol, overlooking a crowd of hundreds of thousands as rain began to fall, Trump presented a dark vision of a nation afflicted by division and dislocation, exploited and forgotten by a group of Washington elites and diminished around the world. His arrival, he promised, would finally turn it around.
"This American carnage stops right here and stops right now," he declared in a forceful 16-minute Inaugural Address.
"The time for empty talk is over," he added later. "Now arrives the hour for action. Do not allow anyone to tell you it cannot be done." …