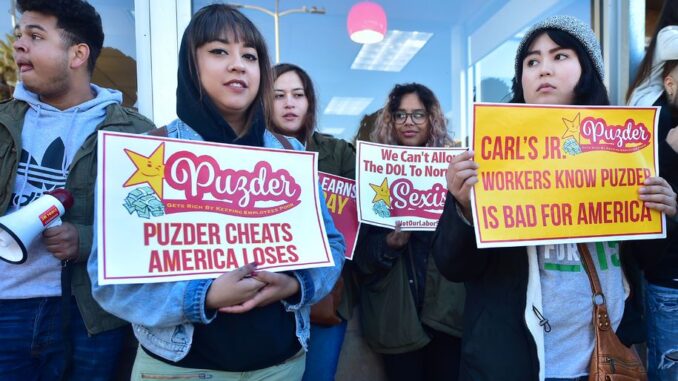 Reprinted from Workers' Independent News by Doug Cunningham on January 27, 2017.
Thirty-three new labor law violation charges were filed this week against CKE – Andy Puzder's fast food chain. Puzder is Trump's nominee for US Labor Secretary, a job that's supposed to enforce labor laws to improve workers lives.
The charges include sexual harassment, wage theft through wage and hour violations and unfair labor practice charges.
Charges were filed at the NLRB, the EEOC and state labor departments across ten states. …
Workers' Independent News 1/27
Reprinted from Salon by Angelo Young on January 27, 2017.
… One of the suits alleges an Alabama CKE franchise paid employees with debit cards that included transaction fees, putting their hourly wage below the legal minimum. Another complaint claims a female employee at a Tampa, Florida restaurant was threatened with sexual violence by a co-worker and was moved to a less-desirable shift when she complained the manager.  A North Carolina franchise was allegedly photographing employees participating in Fight for $15 demonstrations and grilled job applicants about their views of the movement before making hiring decisions, which are violations of federal labor laws protecting workers' freedom of speech and right to organize without retaliation or coercion. …