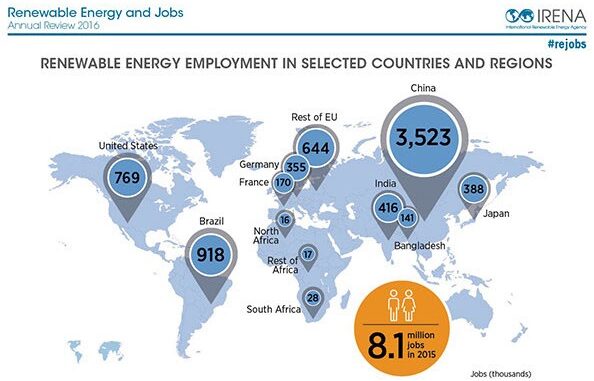 Reprinted from Think Progress by Joe Romm on January 5, 2017.
China is preparing to go big on the only major new source of sustainable high-wage employment in the coming decades.
Beijing's newest 5-year energy development plan invests a stunning 2.5 trillion yuan ($360 billion) in renewable generation by 2020. Of that, $144 billion will go to solar, about $100 billion to wind, $70 billion to hydropower, and the rest to sources like tidal and geothermal power.
The Chinese National Energy Administration said in a statement Thursday the resulting "employment will be more than 13 million people." …
While Trump might extend a short-term lifeline to the dirty fuels of the past, millions and millions of the jobs of the future will apparently be captured by more forward-looking countries … like China.