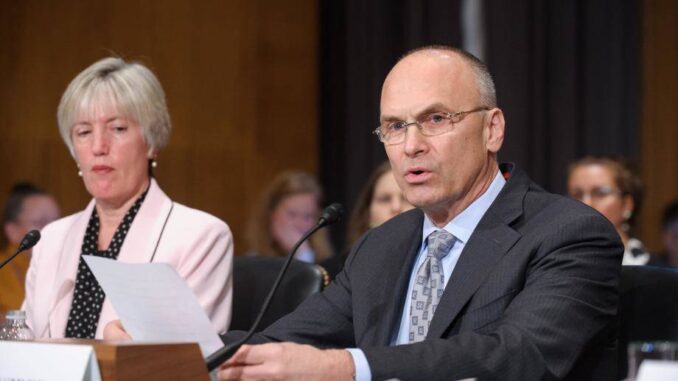 Reprinted from The New York Times by Alan Rappeport on February 15, 2017.
The fast food executive Andrew Puzder withdrew his nomination to be President Trump's labor secretary on Wednesday amid growing doubts among Republican senators that he can be confirmed.
Democrats claimed victory.
"The simple truth is that given his relationship to employees at the companies he runs, he was not fit to lead a department responsible for defending workers' rights," said Senator Bernie Sanders, independent of Vermont who ran for the Democratic presidential nomination last year.
The chief executive of the CKE Restaurants fast-food chain, owner of Hardee's and Carl's Jr., had come under intense fire from Democrats and liberal groups who accused him of mistreating his workers, opposing the minimum wage and supporting automation in the workplace. The attacks on his policy views were compounded by intense scrutiny of his personal life, including allegations that he abused his ex-wife in the 1980s. …
Reprinted from The Hill by Jordain Carney on February 15, 2017.
Democrats are quickly claiming victory after Andy Puzder withdrew his nomination Wednesday to be President Trump's Labor secretary.
Senate Democrats cheered Puzder's announcement, arguing they had finally been able to pressure Republicans into blocking one of Trump's Cabinet nominees.
"Andrew Puzder's withdrawal as Labor Secretary is a victory for the American worker," Senate Minority Leader
Chuck Schumer
(D-New York) said in a statement. "Puzder should never have even been nominated to lead the Labor Department and Senate Republicans clearly recognized this too." …
Reprinted from The AFL-CIO blog Now by Jackie Tortora on February 16, 2017.
AFL-CIO President Richard Trumka responded to the news of Andrew Puzder withdrawing as the labor secretary nominee:
"The withdrawal of Andrew Puzder's nomination is great news for everyone who wants an America where wages rise, benefits are strong and unions are growing. It's a reminder of the collective power of working people and a clear message to President Trump that it's time to change course completely, not double down.
"Working people rejected Puzder because he routinely violated labor law, disrespected workers, opposed a living wage and used his position of authority to enrich himself at the expense of working people. We rallied in towns and cities across the country, flooded Senate offices with calls and e-mails, and highlighted Puzder's terrible track record. The American people want a Labor Secretary who will hold employers accountable for paying a fair wage and providing a safe workplace while ensuring our right to a voice on the job. President Trump made a lot of promises on the campaign trail about supporting working people. It's time to start turning those promises into action."
Reprinted from MSNBC by Steve Benen on February 15, 2017.
"Puzder was less a Labor Secretary nominee and more a caricature of what a ridiculous cabinet selection looks like," writes Steve Benen for MSNBC. "Even by contemporary Republican standards, his overt hostility towards working people stood out as breathtaking.
"But what ultimately derailed his nomination was the lengthy list of controversies, including allegations of domestic abuse, hiring undocumented workers, and multiple unresolved controversies surrounding his own businesses. The fact that Puzder's confirmation hearings were delayed multiple times, in part because he seemed reluctant to provide the Senate with his background materials, didn't help. …