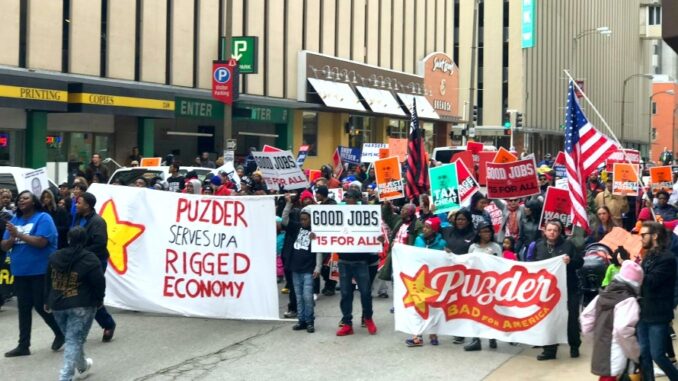 Reprinted from Common Dreams by Nika Knight on February 13, 2017.
For the third time since anti-worker fast food CEO Andy Puzder's nomination for Labor Secretary was announced, fast food workers are flooding the streets in protest.
Days before Puzder's confirmation hearing on Thursday, hundreds of cashiers and cooks are rallying in front of the St. Louis headquarters of Hardee's and the Anaheim, California offices of CKE Restaurants, the conglomerate overseen by Puzder that includes Carl's Jr. and Hardee's restaurants.
Fast food workers aren't the only people objecting to Puzder's nomination. Senator Elizabeth Warren (D-Massachusetts) sent a blistering letter (pdf) to Puzder Monday in which she charged him with "a sneering contempt for the workers in your stores and a vehement opposition to the laws you will be charged with enforcing."
Indeed, workers say that wage theft, discrimination, and sexual harassment are rampant at Puzder's chains. Those allegations are backed up by publicly available data and have also prompted multiple investigations from the Department of Labor, as media reports have noted. …