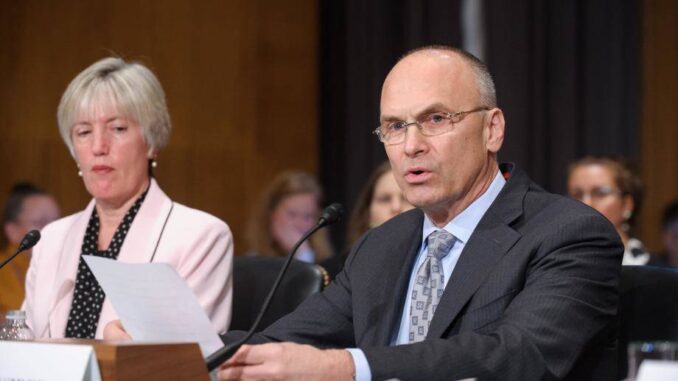 Reprinted from The New York Times on February 8, 2017.
The US Senate panel tasked with vetting labor secretary nominee and fast-food executive Andrew Puzder will hold his confirmation hearing on February 16, now that his ethics paperwork has been submitted to Congress, a committee spokesman said Wednesday. …
In a letter to Puzder sent on Wednesday before the ethics paperwork was sent to the Senate, the committee's ranking Democrat, Patty Murray, said she wanted to receive a "detailed account" of his plans for recusals, divestments and resignations in order to avoid potential conflicts of interest stemming from his business relationship with Roark Capital Group.
"The franchise model's pervasive presence in the fast food industry, the frequency of serious labor violations connected with franchising and your past or present financial interest in Roark raise questions regarding your ability to faithfully carry out the Department of Labor's mandate," Murray wrote. …
Four GOP senators are refusing to say whether they'll vote to confirm Andrew Puzder, President Trump's Labor secretary pick, amid revelations that he once employed an undocumented worker, CNN reported Tuesday.
Senators Susan Collins (Maine), Johnny Isakson (Georgia), Lisa Murkowski (Alaska) and Tim Scott (South Carolina) are withholding judgement on Puzder, making it unclear whether he will get the 51 votes necessary for confirmation.
The senators' silence on Puzder could be a sign that the fast food executive's nomination is in jeopardy before it even leaves the Senate Health, Education, Labor and Pensions Committee.
Democrats on the committee are poised to vote against Puzder's nomination. …
Andy Puzder didn't pay taxes for an undocumented worker he employed as housekeeper for several years until after President Donald Trump nominated him for labor secretary in December, a spokesman for the fast-food executive said Tuesday.
The "taxes were paid recently, since the nomination," said George Thompson, spokesman for Puzder said. The spokesman clarified the timing of the tax repayment on Tuesday after the employment of the housekeeper and a related tax issue were disclosed Monday. …
President Donald Trump's nominee for secretary of labor has proposed avoiding conflicts of interest by resigning as CEO of his fast food empire, selling off hundreds of holdings and recusing himself from government decisions in which he has a financial interest, according to his ethics filings with the government.
"I will not participate personally and substantially in any particular matter in which I know that I have a financial interest directly and predictably affected by the matter" without a waiver from government ethics officials, Andrew Puzder wrote in the nine-page filing, dated Tuesday and obtained by The Associated Press. Puzder is CEO of CKE Restaurants Inc., which owns such chains as Hardee's and Carl's Jr. …
President Trump should withdraw Andrew Puzder's nomination to lead the Labor Department, the AFL-CIO and other labor groups said Thursday in a letter obtained by The Hill.
The AFL-CIO, the nation's largest labor organization, raised concerns about Puzder hiring and not immediately paying taxes on a housekeeper who was an undocumented immigrant — an issue that has also generated criticism of the Trump nominee from the right.
The letter was signed by 128 left-leaning organizations, including the AFL-CIO, Service Employees International Union, Communications Workers of America, United Steelworkers, Fight for $15, Good Jobs Nation, National Employment Law Project, Jobs With Justice, and the National Association for the Advancement of Colored People. …