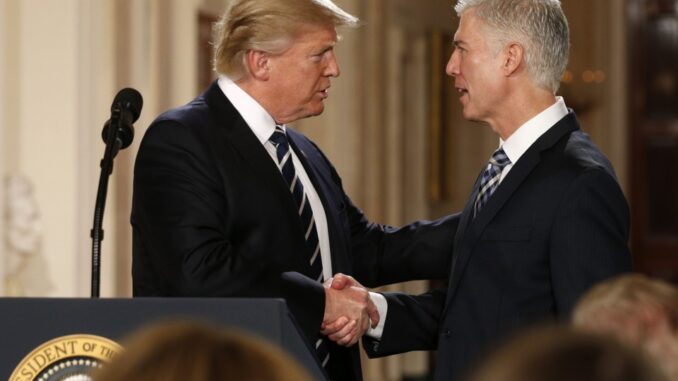 Reprinted from The Hollywood Reporter by Eriq Gardner on January 31, 2017.
"President Donald Trump wanted another Antonin Scalia for the US Supreme Court," writes Eriq Gardner in The Hollywood Reporter. "On Tuesday, Trump tapped Neil Gorsuch, a Harvard Law School educated judge whose prominent clerkships, impeccable writing and undying commitment to hew closely to the text of the US Constitution and statutes have drawn comparisons to the late conservative idol.
"Gorsuch, 49, will now go through the confirmation process, and with Republicans snubbing former President Barack Obama's pick Merrick Garland and a nation divided over Trump's executive orders on immigration, it will surely be contentious. Few individuals will be subjected to as much scrutiny as Gorsuch in the coming weeks. Many will look to divine how he will rule on controversial subjects. Gorsuch himself may not be keen on the [former Justice] Scalia comparisons nor attempts to figure out his judicial philosophy. …
[On] "intellectual property, Scalia may have upset some heads in the industry by not letting studios like 20th Century Fox dress up plagiarism charges as trademark infringement or by taking Aereo's side in the performance of copyrighted programming. There's no perfect way to predict how Scalia's potential replacement might rule on future IP controversies, although it's worth checking out Gorsuch's almost Scalia-esque deconstruction of 'originality' in Meshwerks v. Toyota Motor Sales, a case over whether digital models of cars and trucks warranted copyright protection.
"There, he spoke about the difficulties of distinguishing independent creation 'in an age of virtual words and digital media' and went through the history of how photography once challenged copyright law before arriving at the conclusion that despite the creative labor and skill invested by Meshwerks in their modeling, the product wasn't original enough.
"Does this suggest Gorsuch is not a copyright maximalist?
"'Digital modeling can be, surely is being, and no doubt increasingly will be used to create copyrightable expressions,' he wrote. 'Yet, just as photographs can be, but are not per se, copyrightable, the same holds true for digital models. There's little question that digital models can be devised of Toyota cars with copyrightable features, whether by virtue of unique shading, lighting, angle, background scene, or other choices. The problem for Meshwerks in this particular case is simply that the uncontested facts reveal that it wasn't involved in any such process, and indeed contracted to provide completely unadorned digital replicas of Toyota vehicles in a two-dimensional space. For this reason, we do not envision any 'chilling effect' on creative expression based on our holding today…'" …
If Judge Gorsuch is confirmed, the court will once again have a majority of justices appointed by Republican presidents, as it has for nearly half a century. For starters, that spells big trouble for public-sector labor unions, environmental regulations and women's access to contraception. If Trump gets the chance to name another justice, the consequences could be much more dire. …
The seat Judge Gorsuch hopes to sit in should have been filled, months ago, by Merrick Garland, the chief judge of the Court of Appeals for the District of Columbia Circuit, whom President Barack Obama nominated to the court last March. Judge Garland, a former federal prosecutor and 20-year veteran of the nation's most important federal appeals court, is both more moderate and more qualified than Judge Gorsuch. …