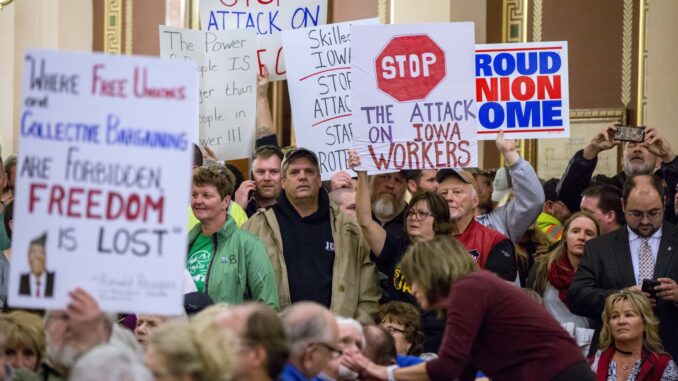 Reprinted from The Washington Post by Barbara Rodriguez And Linley Sanders on February 16, 2017.
Public sector unions in Iowa will have less authority to negotiate working conditions for teachers, nurses and correctional officers under a bill passed Thursday in the new Republican-controlled Legislature that critics say is aimed at crippling organized labor in the state.
The legislation, expected to be signed into law by Iowa's conservative governor, will prohibit workers from collectively negotiating over health insurance, extra pay and several other items currently covered by law. It's expected to be one of the most significant bills of the legislative session, in part because of loud opposition from Democrats and unions.
"We did not start this fight," said Ken Sagar, president of the Iowa Federation of Labor, AFL-CIO, after the chambers debated the legislation simultaneously and passed it roughly an hour apart. "But we will not give up on this fight for the rights and lives of working Iowans." …