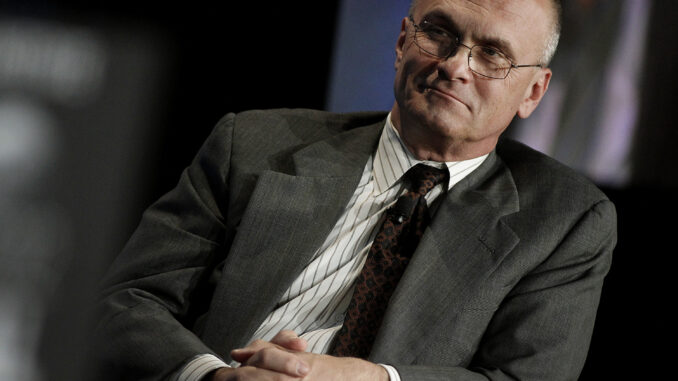 Reprinted from The New York Times by Reuters on February 13, 2017.
Four US Republican senators have not yet said whether they will support labor secretary nominee Andrew Puzder, raising suspense about whether he will survive an initial confirmation hearing this week.
The four senators – Susan Collins of Maine, Lisa Murkowski of Alaska, Tim Scott of South Carolina and Johnny Isakson of Georgia – all sit on the Senate Committee on Health, Education, Labor and Pensions, which will on Thursday hold the first confirmation hearing for Puzder, President Donald Trump's pick to head the Labor Department.
Puzder, the CEO of CKE Restaurants, which franchises restaurants, including Carl's Jr. and Hardee's, has faced staunch opposition from Democrats and protests from union-backed groups about policies at CKE's food chains. Along with now-confirmed Education Secretary Betsy DeVos, he has been one of Trump's most controversial Cabinet picks.
Through statements and spokespeople on Monday, the four Republican senators indicated they have some outstanding questions for Puzder but stressed they had not made a final decision. They would not say whether they had specific concerns. …
Reprinted from The San Francisco Chronicle by the Associated Press on February 14, 2017.
A fifth Republican senator is refusing to say he'll support Donald Trump's choice for labor secretary.
Fast food CEO Andrew Puzder's confirmation hearing is Thursday before the Senate Health, Education, Labor and Pensions Committee. Four senators on that panel have said they want to hear why Puzder didn't pay taxes on a housekeeper not authorized to work in the US until five years after he fired her.
South Dakota Senator John Thune, a member of the leadership, added himself to that group Tuesday. Thune told reporters he will "wait and see what his explanation is" at the hearing.
Reprinted from The Washington Post by Joe Davidson on February 14, 2017. 
Labor Department employees have circulated a letter urging Senate committee members to vote against Andrew Puzder, President Trump's nominee for labor secretary.
The letter, posted on Facebook, says "three specific factors disqualify Puzder from serving as the head of an agency whose primary mission is to protect America's workforce: (1) Puzder's own business practices; (2) his derisive public comments about his restaurants' employees and other low-wage workers; and (3) his equally troubling public comments and behavior towards women."
It is not clear how many people have signed the letter or if it was sent. …
Reprinted from Workers Independent News by Doug Cunningham on February 15, 2017.
"He or she has a responsibility to stand up for all working people," wrote AFL-CIO president Richard Trumka. "Andy Puzder fails this test miserably. His fast food company routinely steals workers' wages. He's referred to his employees as the 'best of the worst'.
"And he says a 'sense of accomplishment' is a substitute for overtime pay. Simply put, Andy Puzder doesn't respect the dignity of work. America deserves better.
"When the Senate finally gets around to considering his nomination we strongly encourage them to vote no."