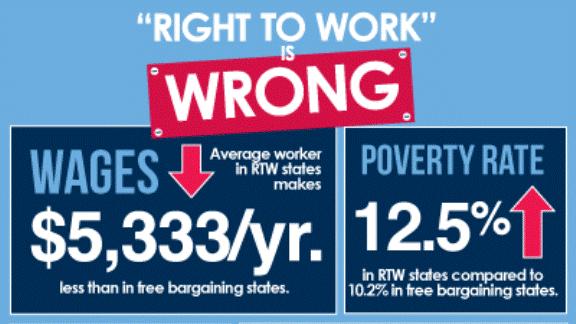 Reprinted from The Hollywood Reporter by Jonathan Handel on February 2, 2017.
Legislation introduced in Congress with little fanfare Tuesday could decimate Hollywood unions and further accelerate the decline of unions nationwide by allowing workers across the country to opt out of paying union dues or fees even if they receive the benefits of a union-negotiated contract.
The result, union activists contend, would be to bankrupt unions nationwide by starving them of dues or other fees paid in lieu of dues. That would appear to be a welcome result for both management and Republicans, as unions are one of the few institutional supports left for the Democratic party, even though many union members apparently voted for Donald Trump in the 2016 election.
Similar statutes, referred to as Right to Work laws, exist in 27 states, including such newer production centers as Georgia, Louisiana and Florida. The new bill, H.R. 744, which Representatives Steve King (R-Iowa) and Joe Wilson (R-South Carolina) introduced in the House, would extend right to work to all states nationwide. …