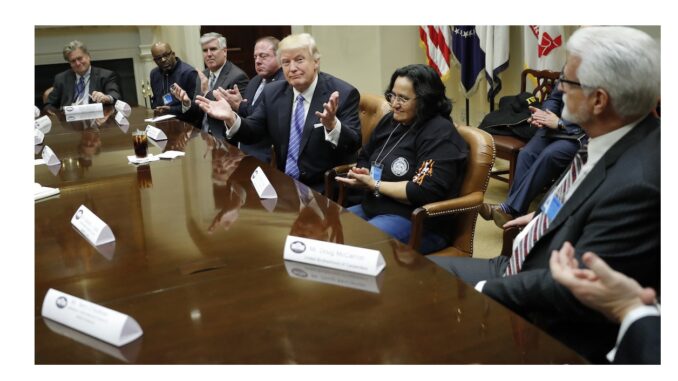 Reprinted from Politico by Rich Yeselson on February 8, 2017.
"Late last month, when President Donald Trump talked with union leaders in the White House, it was something of an unexpected picture: On his first full workday in office, a billionaire Republican president meeting with the heads of major building-trades unions, smiles all around," writes Rich Yeselson in Politico.
"For the labor leaders at the table, the news from the White House was encouraging. Trump talked up his proposed infrastructure plan and his executive orders to restart the Keystone XL and Dakota Access pipeline projects. Now, those measures, long trumpeted by the unions present as job-creating steps, were finally nearing fruition. 'Today was a great day for America and for American workers,' concluded the statement released by the Building Trades Unions coalition after the meeting.
"Many a Republican president has tried to split unions away from their home in the Democratic Party, with mixed and episodic results. Donald Trump might be the first to actually do it more permanently. …