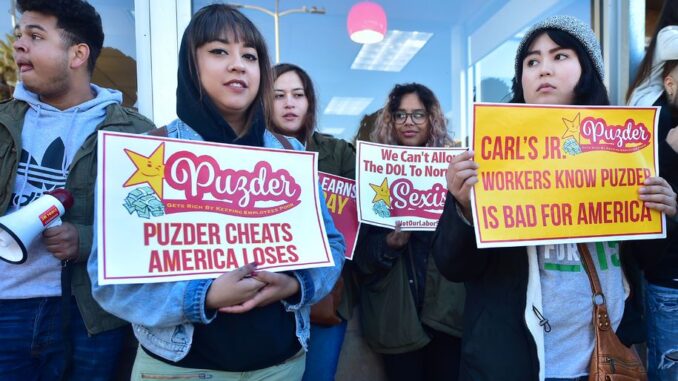 Reprinted from Common Dreams by Nadia Prupis on February 9, 2017.
Labor unions and workers' rights advocates are pressuring President Donald Trump to drop his nominee for Labor Secretary, Andy Puzder, over the fast-food CEO's recent admission that he had hired an undocumented immigrant as a housekeeper.
The AFL-CIO, the nation's largest labor union, penned a letter to Trump—signed by 128 progressive organizations, including the Service Employees International Union (SEIU), Jobs With Justice, and the NAACP—calling on him to ditch Puzder and pick "a suitable nominee who shows proper respect for working people and our nation's employment laws." …
Senate Minority Leader Chuck Schumer (D-New York) likewise called for Trump to withdraw Puzder's nomination, calling him "one of the most anti-worker nominees to any cabinet position, and probably the most anti-worker to the Department of Labor ever."
The letter comes just before large-scale protests against Puzder's nomination are scheduled to launch nationwide. The actions, organized by the workers' rights collective Fight for $15, will take place Monday, days before his confirmation hearing, which was rescheduled for the fifth time this week and is now set to take place February 16. …
Reprinted from The Hill by Max Greenwood on February 10, 2017.
Andrew Puzder's hometown newspaper, The St. Louis Dispatch, is urging the Senate to reject his nomination as Labor secretary, arguing he is "uniquely unqualified" to serve in the role. …
Puzder, a former St. Louis attorney and the CEO of CKE Restaurants, has a record that runs almost counter to the mission of the Labor Department, the editorial board argued. …
"Like many of [President] Trump's nominees – Rick Perry at the Energy Department, Betsy DeVos at Education, Ben Carson at Housing and Urban Development – he is almost uniquely unqualified for the duties of the office to which he seeks confirmation." …