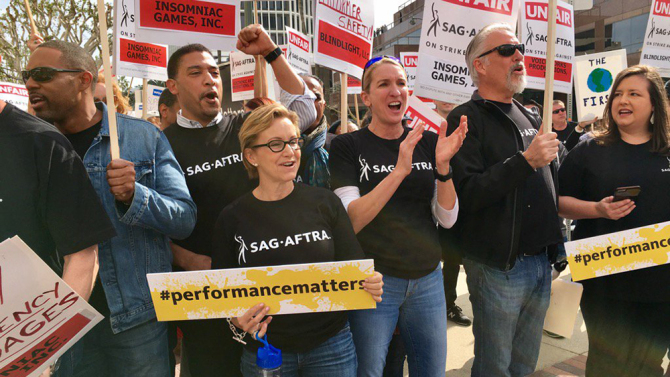 Reprinted from Variety by Dave McNary on February 2, 2017.
SAG-AFTRA drew more than 500 supporters Thursday to a spirited rally as its video game strike moves into its fourth month.
"We are not going to stop until we have a fair contract for our members," said David White, SAG-AFTRA national executive director. "This is not just about money. It's about fair working conditions and secondary compensation."
The union, which has already picketed Activision, Warner Brothers, and Insomniac Games, marched from its Los Angeles headquarters to the park next to the La Brea Tar Pits for the rally.
Negotiations collapsed in October, resulting in SAG-AFTRA calling a strike on October 21 against 11 video game producers: Insomniac Games; Warner Brothers; EA; Activision Publishing; Blindlight; Corps of Discovery Films; Disney Character Voices, Inc.; Formosa Interactive, LLC; Interactive Associates; Take 2 Interactive Software; and VoiceWorks Productions. …