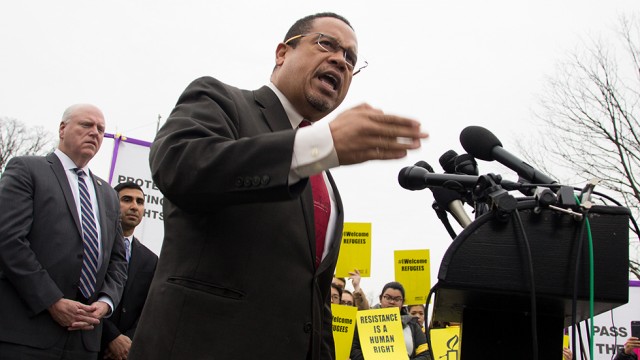 Reprinted from The Hill by Max Greenwood on February 17, 2017.
One of the country's most powerful labor organizations is backing Representative Keith Ellison (D-Minnesota) for Democratic National Committee (DNC) chair, Politico reported Friday.
The Service Employees International Union's (SEIU) support isn't a formal endorsement, but it is calling on its members who can vote for DNC chair to cast their votes for Ellison.
Ellison, who is campaigning for the top DNC job as an anti-establishment progressive, has already won the support of other powerful labor unions, including the AFL-CIO, the United Auto Workers and the Teamsters. …
The Minnesota Democrat's fiercest rival for DNC chair is former Labor Secretary Tom Perez, who has won the endorsements of the United Farm Workers and the Commercial Workers International Union, among others. …
Perez's campaign said on Tuesday that 180 DNC members had pledged their votes to him. He will need 224 votes to win. The election is next week in Atlanta.
Reprinted from The Washington Post by David Weigel on February 17, 2017.
The president of the International Longshore and Warehouse Union has endorsed former labor secretary Tom Perez's campaign to chair the Democratic National Committee. It comes as the Service Employees International Union told members who have a vote in the DNC race to back Ellison.
"The next DNC chair needs to put the concerns of working families first, and my personal experience with Tom Perez showed me that he is a skilled problem solver who is committed to America's working families," ILWU International President Robert McEllrath said in a statement. "Tom Perez helped the ILWU at a critical time in our negotiations, and working with him gave me the opportunity to see firsthand that he is hardworking, trustworthy, and a straight shooter — all qualities I admire. I maintain the utmost respect for all of the other progressives who have stepped up to run for DNC Chair, especially Congressman Keith Ellison of Minnesota. But my personal experience seeing Tom Perez work hard to solve problems for my union's membership is what makes this the right decision for me." …