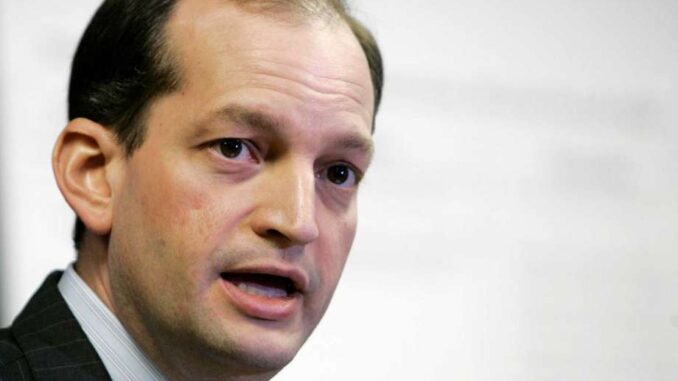 Reprinted from The San Francisco Chronicle by Laurie Kellman on February 17, 2017.
President Donald Trump and a leading Republican are highlighting a key fact about labor secretary nominee Alexander Acosta: He has been confirmed three times by the Senate.
Acosta, who would be the first Hispanic member of Trump's Cabinet, has won confirmation to the National Labor Relations Board, as the head of the Justice Department's Civil Rights Division and as US attorney in Miami. That means he's already received some vetting — a practice for which the Trump administration is not known.
"Acosta's nomination is off to a good start because he's already been confirmed by the Senate three times," said Senator Lamar Alexander, R-Tennessee, the chairman of the Senate panel that will hold Acosta's yet-unscheduled confirmation hearing.
Trump also mentioned that fact during a brief statement on Acosta at the start of a press conference Thursday that swiftly became dominated by other issues. Acosta did not attend the event.
Reprinted from The Washington Post by Jonnelle Marte on February 17, 2017.
Labor groups, unions and lawmakers in both political parties are still getting to know R. Alexander Acosta, President Trump's latest pick for labor secretary.
Acosta, 48, is the dean of the Florida International University's law school and was a member of the National Labor Relations Board from 2002 to 2003. He also worked as an assistant attorney general for the civil rights division of the Justice Department under then-President George W. Bush.  After building a career in Washington, Acosta returned home to Miami as a US attorney. …
Acosta has defended civil rights for Muslim Americans.
There are at least two notable cases in which Acosta has defended the civil rights of Muslim Americans. One is a case from 2004 when Acosta, who was then with the civil rights division, intervened to help defend an 11-year-old student who had sued her Oklahoma school district for requiring her to remove her hijab because it violated the school's dress code. "No student should be forced to choose between following her faith and enjoying the benefits of a public education," Acosta said in a statement at the time, according to a report from CNN. The school district settled with the Justice Department and changed its dress code. …