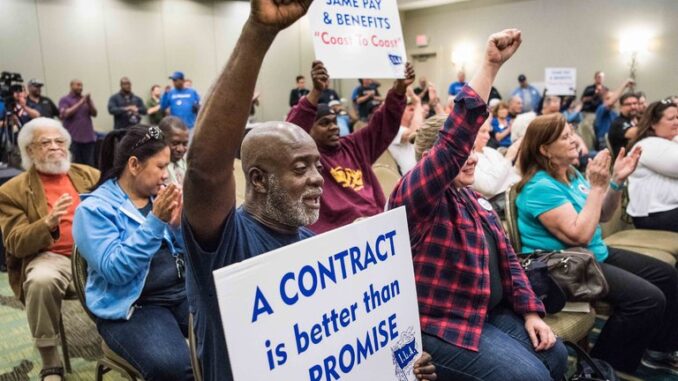 Reprinted from The New York Times by Reuters on February 13, 2017.
Boeing Co faces its first union vote on Wednesday at its aircraft factory in South Carolina, a high-profile test for organized labor in the nation's most strongly anti-union state.
The world's largest planemaker is running a hardball campaign against the International Association of Machinists and Aerospace Workers (IAM), which is trying to organize about 3,000 workers at one of two plants where Boeing makes 787 Dreamliners. The other, in Washington state, has long been unionized by the IAM.
"It would be a major, major win for the machinists if they got this," said Arthur Schwartz, an independent consultant who worked in labor relations at General Motors Co for two decades and does not represent either side. …
Reprinted from In These Times by Mario Vasquez on February 14, 2017.
Since a new election was scheduled last month, Boeing workers who spoke to In These Times say that Boeing has been unrelenting in its opposition to the union.
"It's just a constant barrage—any opportunity they've had, they've hit us with [an] anti-union message," says Randy Toler, a worker.
Boeing did not respond immediately to a request to comment.