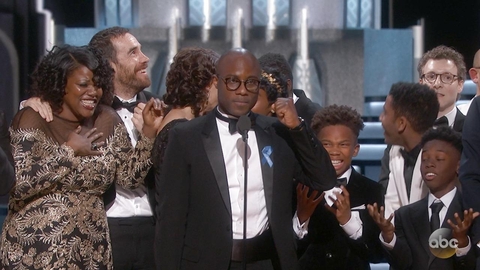 Reprinted from The New York Times by Brooks Barnes and Cara Buckley on February 26, 2017.
Moonlight is best picture. In a bewildering end to the show, La La Land was first announced as the winner before its jubilant cast and crew were interrupted with a scarcely believable correction.
Jimmy Kimmel, his Everyman schtick carefully in place, opened the 89th Academy Awards on Sunday with a plea for viewers to bridge divides, followed by a jab at President Trump. It promised to be a whipsawing night, with Kimmel determined to deliver an effervescent, ratings-lifting show and Hollywood in a sour political mood and itching to tell the world about it.
As for the awards, which sometimes seemed like an afterthought as the show moved toward a marathon four hours, voters had spread honors across an array of films by the ceremony's midway mark. Moonlight, Arrival, Hacksaw Ridge, Fences, Zootopia and La La Land had all won at least one Oscar apiece. Hacksaw Ridge, the true story of a heroic World War II medic, won Oscars for sound mixing and film editing, a category that is often predictive of the best picture winner.
La La Land was honored with Oscars for Damien Chazelle's directing, its cinematography, song, score and production design. "This is dedicated to all the kids who sing in the rain, and all the moms who let them," said Justin Paul, part of the La La Land songwriting team, as they accepted the statuette. …
Reprinted from The Los Angeles Times by its Calendar Staff on February 26, 2017.
The 89th Academy Awards have come to an end, where Moonlight was awarded the best picture Oscar after it was erroneously awarded to La La Land in a moment of onstage confusion.
La La Land ended up with six Oscars including director and lead actress (Emma Stone). Casey Affleck took home the lead actor award for Manchester By the Sea, while Moonlight's Mahershala Ali took home the trophy for supporting actor. Viola Davis won the supporting actress Oscar for her work in Fences.
Elsewhere, O.J.: Made in America was named the winner in the feature documentary category, while Iran's The Salesman won the foreign-language film Oscar. The latter's director, Asghar Farhadi, declined to attend the ceremony in the wake of the Trump administration's travel ban. …
[Click on the link for a complete list of nominees and winners.]
Reprinted from Variety by James Rainey, and Brent Lang on March 1, 2017.
… The painful irony for the Academy is that the faux pas overshadowed a powerful rebuttal to last year's #OscarsSoWhite protests. Moonlight, with its all-black cast, won the top prize; adapted screenplay for writer/director Barry Jenkins and his writing partner, Tarell Alvin McCraney; and the supporting actor award for Mahershala Ali. Viola Davis' win for supporting actress in Fences and black filmmaker Ezra Edelman's documentary win for O.J.: Made in America added to a record-setting Oscar night for African-Americans. (Recognition of Latinos, Asian-Americans, and others should become hot topics in future years.) …