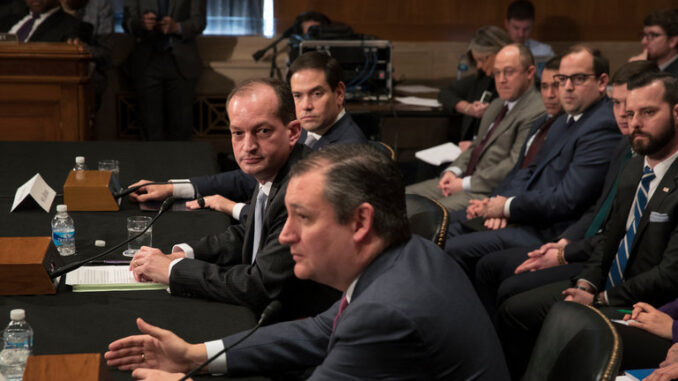 Reprinted from The Hill by Tim Devaney and Lydia Wheeler on March 22, 2017.
President Trump's second choice to lead the Labor Department suggested at his confirmation hearing Wednesday that more employees should be paid for the overtime hours they work, "because life gets more expensive."
The remarks from Labor Secretary nominee Alexander Acosta, a former Republican member of the National Labor Relations Board (NLRB), raised eyebrows from several Health, Education, Labor and Pensions panel Republicans.
"The overtime rule hasn't been updated since 2004," Acosta said. "It's unfortunate that rules that involve dollar values can sometimes go more than a decade, sometimes 15 years, without being updated. Because life does get more expensive." …
Reprinted from The New York Times by Yamiche Alcindor on March 22, 2017.
President Trump's second pick to lead the Labor Department told senators on Wednesday that he would not allow partisan political considerations or conservative ideologues to shape his department, pushing back against accusations by Democrats that he had looked away as subordinates at the Justice Department stacked his office with ideological allies during the George W. Bush administration.
R. Alexander Acosta, the nominee for labor secretary, also defended his decision as the United States attorney in Southern Florida to offer a lenient plea deal to a wealthy New Yorker accused of paying underage girls for sexual acts.
For nearly three hours in front of the Senate Health, Education, Labor and Pensions Committee, Acosta, 48, defended his record, explained how he might deal with budget cuts to the department and dismissed the concerns of several senators who asked how he would avoid any pressure from the president to pass policies based on politics and not on the best interest of workers. Acosta, who would be the only Hispanic in Trump's cabinet, promised not to evaluate workers based on their political leanings. …