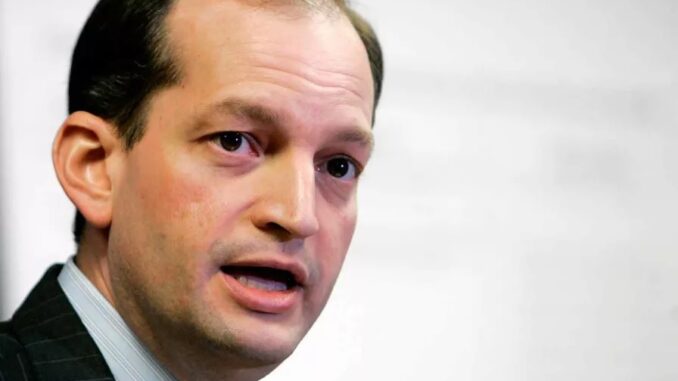 Reprinted from The Nation by Christopher Cook on March 29, 2017.
"Overshadowed by the high-octane wars over the Affordable Care Act and Supreme Court nominee Neil Gorsuch, the confirmation of Labor Secretary nominee Alexander Acosta is cruising toward a March 30 Senate committee vote with little fanfare," writes Christopher Cook in The Nation. "Yet Acosta's acquiescence to President Trump's labor agenda holds frightful if unheralded consequences for America's workers, millions of them Trump supporters.
"Positioned as a kinder, gentler conservative than Trump's first labor nominee, fast-food magnate Andrew Puzder, Acosta nonetheless has deep roots in Republican politics. He clerked for Supreme Court justice Samuel Alito (when he was a federal circuit court judge), and did prominent time in George W. Bush's administration as member of the National Labor Relations Board (NLRB). He also held two top posts in Bush's Justice Department.
"By numerous accounts, Acosta's 8-month tenure at the NLRB displayed a mix of modest partisanship and occasional political independence. Although most of his decisions sided with the Republican majority on the five-member board, Democratic NLRB member Wilma Liebman characterizes Acosta as 'independent, intelligent and not knee-jerk anti-union or anti-worker, or pro-business,' according to Politico. …