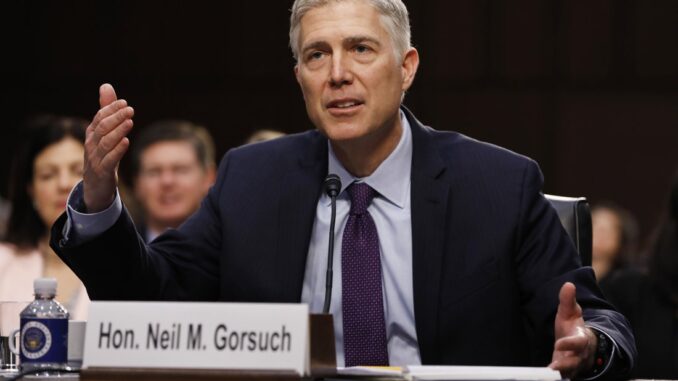 Reprinted from The Washington Post by Robert Barnes, Ed O'Keefe and Elise Viebeck on March 22, 2017.
Democratic senators pressed Judge Neil Gorsuch Wednesday to explain his views on issues such as the Constitution's "emoluments clause" and the notion of "high crimes and misdemeanors," questions designed to more aggressively probe his independence from President Trump.
Gorsuch, Trump's nominee to replace the late Antonin Scalia on the Supreme Court, declined to answer several questions from Senator Patrick Leahy (D-Vermont) on legal concepts Trump's critics have accused the president of violating.
Leahy also noted Gorsuch has strong support from Trump senior counselor Stephen K. Bannon, who he accused of "giving a platform to extremists and misogynists and racists." Another senior Trump aide, Reince Priebus, had said Gorsuch could change potentially 40 years of law, Leahy said.
"What vision do you share with President Trump?" the senator said.
"Respectfully, none of you speaks for me," Gorsuch said. "I am a judge. I am independent. I make up my own mind." …
Reprinted from The Washington Post by Ed O'Keefe, Robert Barnes and Sean Sullivan on March 21, 2017.
Judge Neil Gorsuch sought to reassure senators Tuesday that he would not be swayed by political pressure if he wins confirmation to the Supreme Court — trying to take the steam out of anticipated attacks from Democrats likely to push him to distance himself from President Trump.
Like Supreme Court nominees before him, Gorsuch dodged attempts to pin him down on the controversial cases that would come before him as a justice, and retreated frequently to the position that judges should have no views on political issues.
But he seemed happy to take what even he called the "softball" offered by Senate Judiciary Committee Chairman Charles Grassley (R-Iowa) about whether he would have any trouble ruling against President Trump, the man who nominated him.
"I have no difficulty ruling against or for any party other than based on what the law and the facts of a particular case require," Gorsuch told the panel. "And I'm heartened by the support I have received from people who recognize that there's no such thing as a Republican judge or a Democratic judge — we just have judges in this country. …