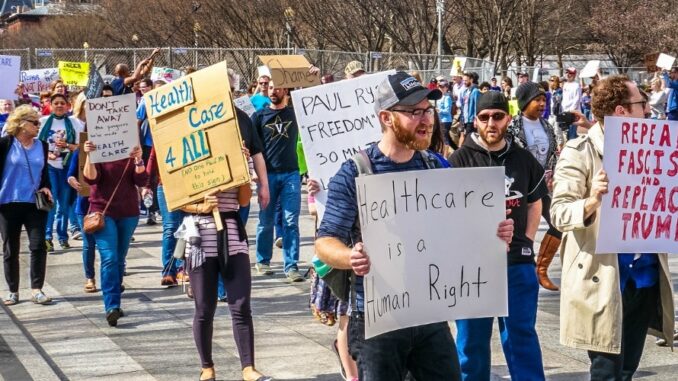 Reprinted from Common Dreams by Deirdre Fulton on March 16, 2017.
The GOP's healthcare plan narrowly passed out of the House Budget Committee on Thursday, while "stakeouts" began in Congressional home districts aimed at pressuring lawmakers to vote against the widely unpopular legislation.
Three right-wing Republicans on the committee, Representatives Dave Brat (Virginia), Mark Sanford (South Carolina), and Gary Palmer (Alabama), voted against advancing the American Healthcare Act (AHCA)—but their opposition was not enough to stymie the plan. Now, the bill heads to the House Rules Committee, "where leadership might make amendments to appease conservatives and moderates unhappy with the current legislation," The Hill reported. A full House vote could come as early as next week.
And so the resistance must act fast, hence this week's "Congressional Stakeouts to Save Healthcare," organized by MoveOn.org and taking place outside the district offices of nine Republican senators and more than two dozen Republican representatives who "hold the decisive votes" on AHCA.
"By holding vigil outside the offices of key Republicans who hold the decisive votes on 'TrumpCare,' MoveOn members will ensure that anyone coming in or out of the office—staff, visitors, and the members of Congress themselves—will face their constituents and hear our health care stories, our songs, our hopes, our anger, and our cheer," said Victoria Kaplan, organizing director for MoveOn.org.
"Passing this repeal bill is the GOP's top legislative priority—but because of strong opposition from constituents recently, including at intense and packed town hall meetings, GOP leaders are in a bind," she continued. "If millions of MoveOn members and activists nationwide mobilize—by showing up at Congressional offices, making phone calls, and sharing our healthcare stories—we can prevent this bill from ever becoming law." …